MSU fans gather at Columbus restaurant, celebrate wins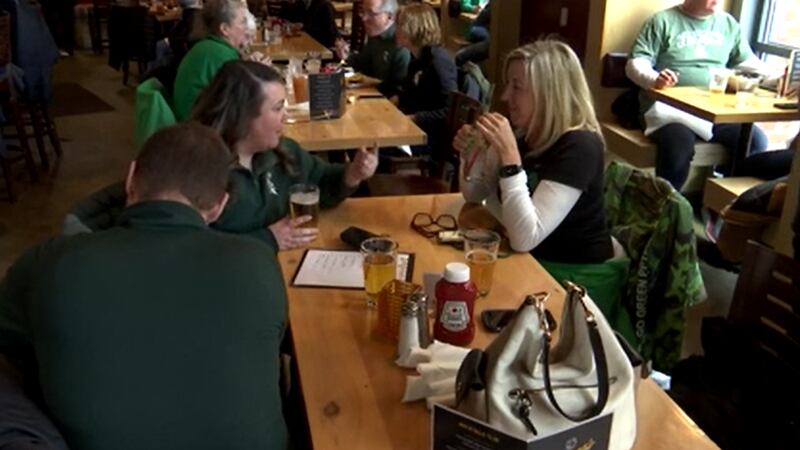 Published: Mar. 18, 2023 at 7:05 PM EDT
COLUMBUS, Ohio. (WNEM) - It's no surprise that Michigan State Spartan fans are celebrating the men's basketball team's victory over the University of Southern California Friday in the first round in the NCAA men's basketball tournament.
The team takes on Marquette Sunday. In the meantime, a lot of fans are spending some of their down time at Moran's Bar & Grille.
"It's been great. They've been awesome. We've had so much fun," said Matt Rootes, the co-owner at restaurant located just a stone's throw away from Nationwide Arena in Columbus, Ohio.
The establishment has been tabbed as the home bar for Michigan State.
Rootes tells TV5 the restaurant was full of joy after MSU defeated USC on Friday.
"They piled in. They were yelling and screaming. It was really fun. It was a good time," Rootes said.
Saturday, MSU fans are filling tables to relax and eat.
"We just basically feature all American Tavern Fare. Burgers, chicken sandwiches. All of our food is made in house from scratch," Rootes said.
Customers donning the green and white said the business great place to hang out in between games.
"The food is good first of all. And it's just a nice atmosphere. And there's a lot of MSU fans here right now, so that's fun to be enjoying it with other fans," one fan said.
"Atmosphere is real nice. Bunch of Michigan state people here," another fan said. "We should all be here together so we can support our team and support the tournament. There's a really great atmosphere here, and it looks like a really great place, and I would like to stay here all day."
So, if you're already in town, or if you have plans to travel to Columbus for the game Sunday, Rootes would like to see you.
"We got plenty of food, plenty of beer, come down and enjoy the game tomorrow," Rootes said.
Subscribe to the TV5 newsletter and receive the latest local news and weather straight to your email every day.
Copyright 2023 WNEM. All rights reserved.