GRAPHIC: Arrest made after Florida police officer struck by fleeing vehicle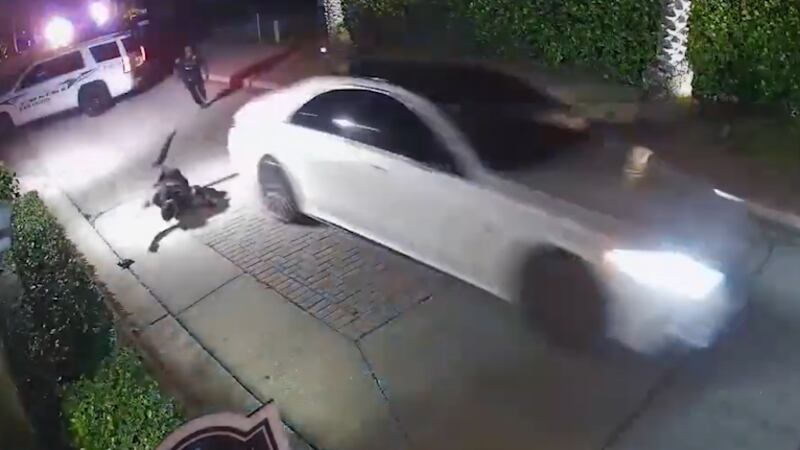 Published: Mar. 22, 2023 at 5:32 AM EDT
|
Updated: Mar. 22, 2023 at 5:22 PM EDT
SARASOTA, Fla. (WWSB/Gray News) - An arrest has been made in connection with a Sarasota Police officer being struck by a fleeing vehicle.
Body camera footage showed the patrol officer being struck by the fleeing car Monday night on Bird Key.
WARNING: The following video contains graphic content.
Sarasota Police officers responded to a call about a vehicle burglary on Mourning Dove Drive at about 2 p.m. Officers discovered video evidence and identified a white Mercedes as a suspect vehicle involved in the burglary.
Just after 5 p.m., the same white Mercedes was in a neighborhood on Longboat Key. Longboat Key police responded to a vehicle stolen from a home on Fair Oaks Place. Several people were home when the vehicle was stolen, but no one was hurt.
Sarasota police received a call just after 9 p.m. that the white Mercedes had returned to Bird Key. Sarasota Police officers placed their patrol vehicles at the entrance to stop the Mercedes from leaving.
When the Mercedes driver attempted to run the barricade, one officer anticipated the car would either turn onto a side street or crash into one of the parked patrol vehicles. The Mercedes drove past a patrol car and hit the officer head-on, flipping him over the vehicle. The officer was taken to Sarasota Memorial Hospital but is now home and expected to recover fully.
Sarasota Police officers followed the Mercedes away from Bird Key as it drove east on John Ringling Causeway, north on US 41, east on Fruitville, and was abandoned in the 2900 block of Orange Avenue. When officers arrived, no one was in the vehicle. Tips came in and officers identified the suspect as Mark Thomas, 22, of Plantation, Florida.
Thomas is charged with aggravated battery on a law enforcement officer and flee to elude with disregard for safety. Thomas has a lengthy criminal history that includes grand theft auto and burglary.
Copyright 2023 WWSB via Gray Media Group, Inc. All rights reserved.