Michigan's longest-serving flight nurse hangs up her wings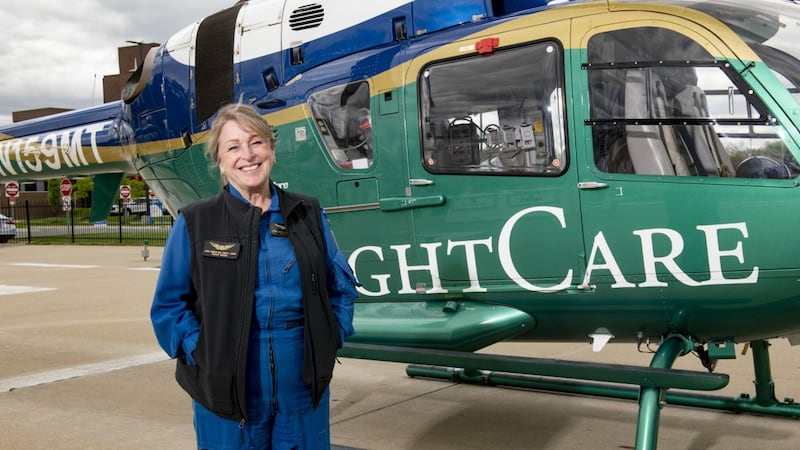 Published: May. 11, 2023 at 4:15 PM EDT
SAGINAW, Mich. (WNEM) - Michigan's longest-serving flight nurse will land on the runway for the last time after more than three decades of flying high.
At the end of May, flight nurse Lori Smith will take off one last time with Ascension St.Mary's FlightCare. When she lands for the last time on May 31, she plans to retire and venture out to new experiences.
Smith first started her career in Ohio as an intensive care nurse, where she was fascinated by the helicopter and life-saving work they do. Smith joined Saginaw's St. Mary's FlightCare in 1989 where she worked for 34 years. She is the longest-serving flight nurse in air medical transport programs in Michigan.
"I love my job, and when you enjoy something that much, the time flies quickly. It's truly humbling to have been able to help people all these years," Smith said. "I am so proud to have been part of the Ascension St. Mary's FlightCare team. They are amazing people who dedicate their lives to saving the lives of others."
FlightCare has transported more than 12,000 patients in its 36 years of service.
"Lori's contributions to FlightCare will never be duplicated," said Mary Jo Stephen, with Ascension St. Mary's Hospital. "I worked alongside Lori for many years and witnessed her compassion for people at their most vulnerable time. She has taken part in thousands of flights and has changed the lives of thousands of people."
Flight nurses are highly trained, requiring at least three years as a registered nurse (RN) and intensive critical care experience. Flight nurses also must be licensed paramedics.
Smith is the first and only staff member at FlightCare who is dual-certified in flight paramedic and flight register Nurse certifications.
"It takes a special kind of person to be a flight nurse and a really special person to do it for more than three decades," said Lucas Summers, clinical supervisor and flight nurse paramedic. "Lori has been climbing in and out of a helicopter since shortly after the program's inception. She has the kindest soul and has a way of building rapport with people instantly. Some people call her every year on their 'incident anniversaries' to thank her for the care and compassion she gave to them."
Smith plans to spend more time with her family and travel during her retirement.
Subscribe to the TV5 newsletter and receive the latest local news and weather straight to your email every day.
Copyright 2023 WNEM. All rights reserved.