Missing dog rescued, returned thanks to microchip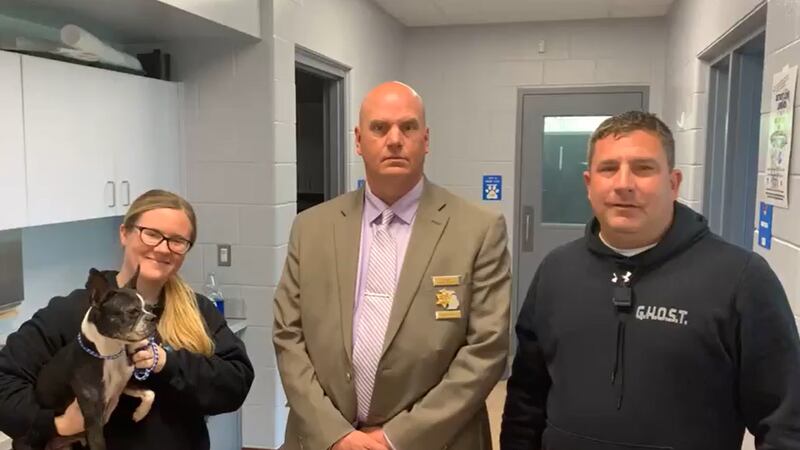 Published: May. 10, 2023 at 10:02 PM EDT
GENESEE CO., Mich. (WNEM) – The Genesee County Sheriff's Office announced the rescue and return of a missing dog, emphasizing the importance of microchipping pets.
On Monday, May 10, Capt. Jason Murphy with the Genesee County Sheriff's Office posted a video on Facebook to announce the rescue and return of a family's dog.
Sgt. Jason White with the sheriff's office's animal abuse division and Danielle Macko with Genesee County Animal Control found the dog, Stella, at a house after she had been missing for three weeks, Murphy said.
Murphy said Stella was rescued from a "really bad situation." He said her owners had been calling Genesee County Animal Control every day asking if she had been found.
On Monday, Stella was reunited with her family because of Stella's microchip.
"Microchipping is the best and fastest way that we can have a reunion happen here at animal control," Macko said. "It's very painless, you just put a little microchip in the back right here and in two seconds we can have a phone number to contact, so a reunion can happen very, very fast."
The Facebook video showed Stella being walked out to greet her family.
"Just remember how happy this is and how important it is to get your dogs microchipped," Murphy said.
Murphy said that the situation Stella was rescued from was part of an ongoing animal abuse investigation. He said Sheriff Chris Swanson would follow up with more details on the investigation later this week.
Subscribe to the TV5 newsletter and receive the latest local news and weather straight to your email every day.
Copyright 2023 WNEM. All rights reserved.