Ducklings rescued after falling into storm drains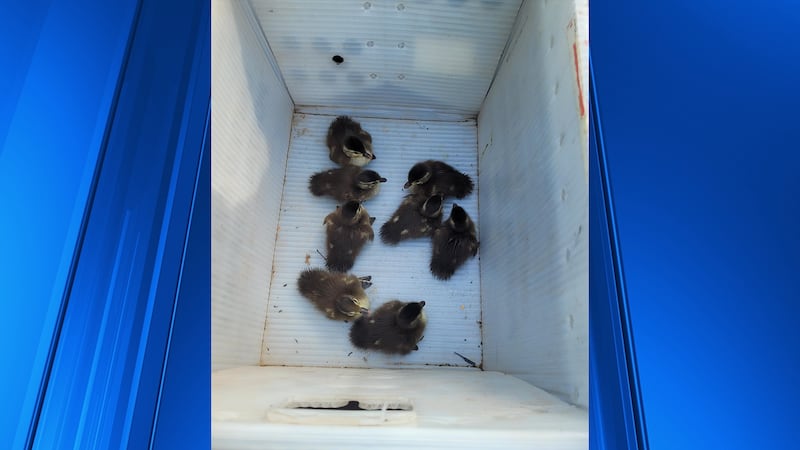 Published: May. 12, 2023 at 4:30 PM EDT
ISABELLA CO., Mich. (WNEM) - A rescue mission for eight ducklings trapped in storm drains quickly ensued when a Shepherd parent his son discovered them on their way to the school drop-off.
Lt. Jeremy Payne, of the Michigan Department of Natural Resources, and his son, freshman Braddock Payne, were driving to school on the morning of Friday, May 12 when they saw a female wood duck staring at a manhole cover, and knew what probably happened, the Shepherd Police Department said.
Braddock was able to verify that there were ducklings stuck in a storm drain, but he had to go to school, so Lt. Jeremey Payne, who was on his day off, called Chief Luke Sawyer, the police department said.
Sawyer called the Village of Shepherd Department of Public Works (DPW) who came to the scene with tools and nets. They were able to get four ducklings out of a shallow drain that was only a few feet deep, the police department said, adding that "momma duck" was watching from close by.
However, four more ducklings walked down a pipe under the street and were now in a drain that was 15 feet deep, the police department said, adding that DPW employee Mark Wilcox netted the ducks and handed them off.
The ducklings were taken a short distance away from the drain system, where they began calling for their mom and within a few seconds she flew in to get her babies, according to the police department.
"You just never know what you might be doing from moment to moment on this job," the police department said. "Maybe it wasn't the crime of the century or anything that will make anyone famous... but it felt good to help out."
The police department said this was the true definition of teamwork to solve a problem.
Subscribe to the TV5 newsletter and receive the latest local news and weather straight to your email every day.
Copyright 2023 WNEM. All rights reserved.