Lawsuit against Oxford schools, employees to move forward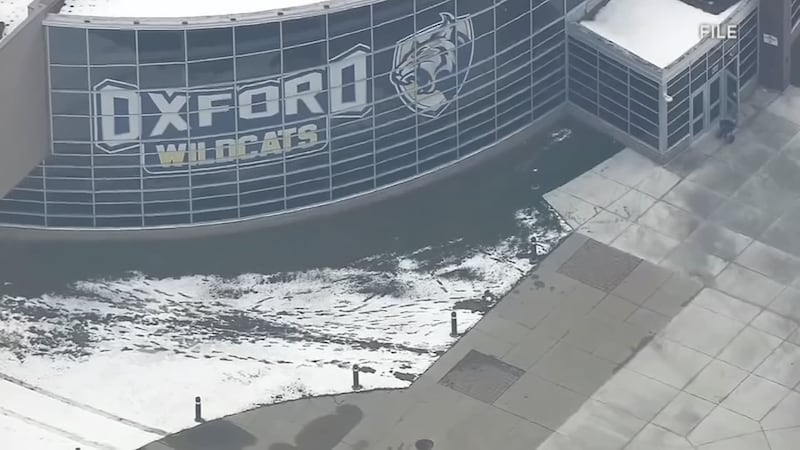 Published: May. 12, 2023 at 1:05 PM EDT
OAKLAND CO., Mich. (WNEM) - The civil lawsuit against Oxford Community Schools and two employees will move forward.
The decision was made Friday, May 12 by U.S. Federal Judge Mark Goldsmith.
Goldsmith denied the motion to dismiss the case against Oxford Community Schools, Dean of Students Nicholas Ejak, and counselor Shawn Hopkins because they failed to search the shooter Ethan Crumbley's backpack before he was sent back to class.
In November 2021, Crumbley shot and killed four students and injured seven others, including a teacher, at Oxford High School.
"This morning, in our federal lawsuit, United States Federal Judge Mark A. Goldsmith ruled in our favor to allow our case to move forward against Oxford Community Schools and two of its employees, Nicholas Ejak and Shawn Hopkins," Attorney Ven Johnson said. "This is monumental win for our clients who suffered unspeakable losses following the preventable and tragic shooting at Oxford High School. We're one step closer to holding OCS and its employees accountable and proving in court they could have prevented this nightmare."
Johnson said it is also a significant victory in the fight against governmental immunity, and they'll continue to fight fiercely for their clients and the entire Oxford community.
Crumbley appeared in court on Friday for a review hearing and will remain at the Oakland County Jail. He plead guilty in October 2022 to 24 charges related to the mass shootings.
His next hearing is set for June 23. He's also scheduled for a miller hearing on July 27, where a judge will determine if Crumbley will be sentenced to life without parole or get a shorter sentence due to his age.
Subscribe to the TV5 newsletter and receive the latest local news and weather straight to your email every day.
Copyright 2023 WNEM. All rights reserved.