Go Gray in May 5k raises money for cancer patients, research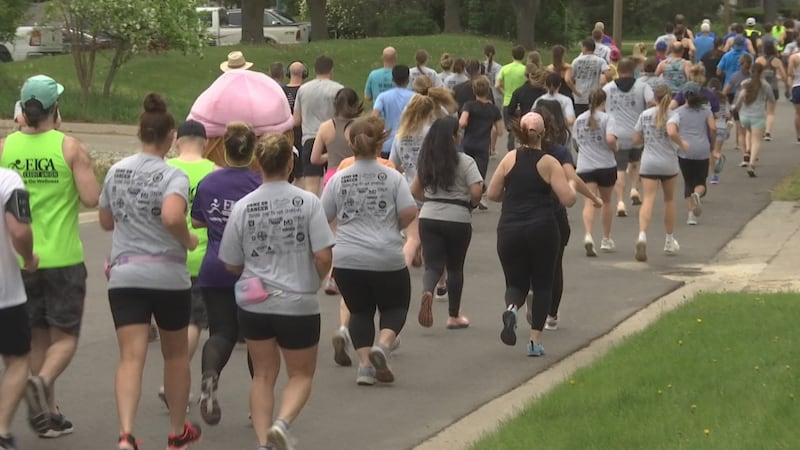 Published: May. 13, 2023 at 4:52 PM EDT
GRAND BLANC, Mich. (WNEM) - May is Brain Tumor Awareness Month. One local survivor is partnering with the healthcare provider who she said saved her life to help other cancer patients.
Saturday saw the second annual Go Gray in May 5k in Grand Blanc. The run benefits Henry Ford Health's Hermelin Brain Tumor Center.
Kate White, a survivor, organized the race to support surgeons, patients, and brain tumor research.
In May 2019, White was diagnosed with an aggressive cancerous brain tumor called a glioblastoma.
"I was suffering from migraines that simply would not go away. After nine days, I was heading into work and realized I put two contacts into the same eye. I just was a mess," White said.
White was treated at Henry Ford Hospital, undergoing surgery, chemotherapy, and radiation. She went back to work that fall as a teacher, then in September of 2022, her tumor returned.
According to doctors, the average survival rate of patients with a glioblastoma is 12 to 14 months.
"With some brain tumors, especially the more aggressive kind, even after you take it out completely the first time it can come back," said Adam Robin, a doctor who helped care for White. "Fortunately we have a lot of tools at Henry Ford that would allow us to go after a brain tumor like that a second time and get people back on with their lives."
White credits the team at the hospital with her survival, adding that without her family and caregivers she would not be where she is today.
In 2022, organizers said close to 326 people ran in the 5k, with this year being able to accommodate nearly 400. 100 percent of the money raised by the race will go to Game on Cancer, a non-profit.
"It is so humbling and inspiring, and it just warms my heart that the community has rallied around this cause," White said. "I am hopeful that events like this really inspire others to want to give back. I don't know that there's anyone around that has not been impacted in some way by cancer."
Subscribe to the TV5 newsletter and receive the latest local news and weather straight to your email every day.
Copyright 2023 WNEM. All rights reserved.