UM-Flint hosts Michigan High School E-sports finals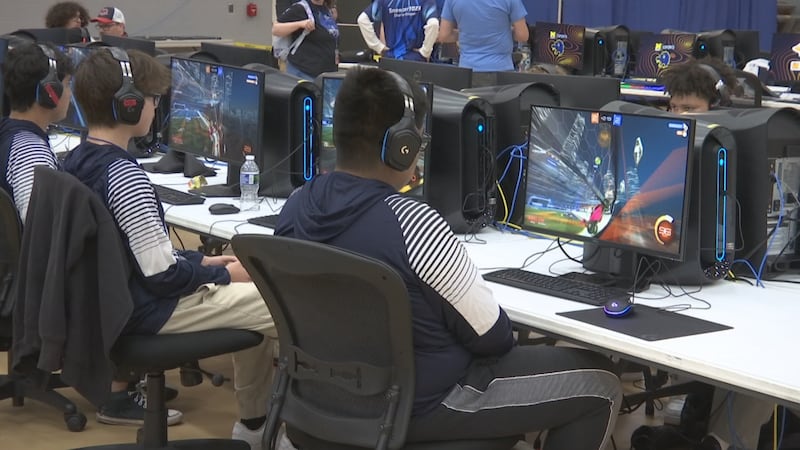 Published: May. 13, 2023 at 4:05 PM EDT
FLINT, Mich. (WNEM) - Put on the headphones and stretch out your keyboard fingers. The University of Michigan-Flint has partnered with the Michigan High School Esports Federation to find out who has the fastest mouse in the state.
The vehicle-city school hosted the spring 2023 state finals event, May 13, with close to 160 students from 36 teams from across Michigan showing off their skills.
Players were tested in three games, Overwatch 2, a first-person action brawler, Rocket League, a vehicular soccer game, and Smite, a third-person multiplayer online battle arena game.
"A lot of the skills are not just how fast can you do things, but how quickly can you communicate," said Kaitlyn Roose, a MiSEF board member. "How effectively can you communicate? How can you problem solve? If a team is doing something and you're not winning and it's not working for you how do you adjust? A lot of these things I think people don't realize are skills necessary for multiple aspects of life."
The university founded its own varsity-level sport in 2020, with 114 students currently on the roster. To prepare for the event, the school purchased 70 additional gaming PCs and monitors.
"Keep an open mind. Think openly about not just kids in a room by themselves playing video games. This is a way kids can communicate with each other, create friends, life-long friends, and find something they are really passionate about," said Scott Arnst, the Chief Information Officer at the university. "It will help them throughout their entire life."
More information on the UM-Flint Esports program can be found here.
Subscribe to the TV5 newsletter and receive the latest local news and weather straight to your email every day.
Copyright 2023 WNEM. All rights reserved.