Late Flint police captain's name added to D.C. memorial wall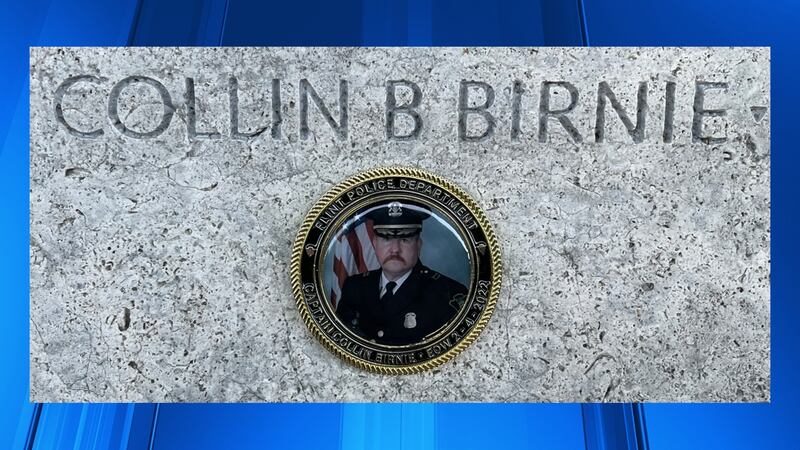 Published: May. 18, 2023 at 3:08 PM EDT
|
Updated: May. 18, 2023 at 3:17 PM EDT
FLINT, Mich. (WNEM) - Flint Police Capt. Collin Birnie, who was killed in a car crash, had his name added to the National Law Enforcement Officers Memorial Wall.
On Birnie's drive home on the evening of Feb. 4, 2022, he was hit head-on by a teenager who lost control while passing other cars in wintry conditions on Elms Road in Mt. Morris Township. Birnie was rushed to a hospital where he later died.
Birnie served the department for 26 years.
Related: Flint Police mourn the loss of police official killed in crash
Flint Police personnel attended Police Week in Washington D.C. along with Birnie's daughter, Marista Ann Dryden, Flint Police said in a Facebook post on Thursday, May 18.
Birnie's name was added to the memorial wall, along with hundreds of other fallen officers from across the country.
"It was an honor to escort Marista to the various memorials and events that were scheduled throughout this solemn week dedicated to remembering fallen officers and in support of their families," the Flint Police Department said.
Birnie has been memorialized on every piece of equipment used by the department to diffuse a bomb, as he was the bomb squad commander. Each tool has been named after a member of his immediate family.
The department has also cemented a commemorative coin in the ground behind the department. It features a picture of Birnie on the front side.
Related: Officers honor late police captain around department
As of Nov. 15, 2022 Birnie's family filed a civil lawsuit against the teen's family seeking damages of more than $25,000. The family's attorney says it's in the discovery stage of the lawsuit, but no amount of money awarded will bring Birnie back.
Subscribe to the TV5 newsletter and receive the latest local news and weather straight to your email every day.
Copyright 2023 WNEM. All rights reserved.