Teen killed, another teen seriously injured in UTV crash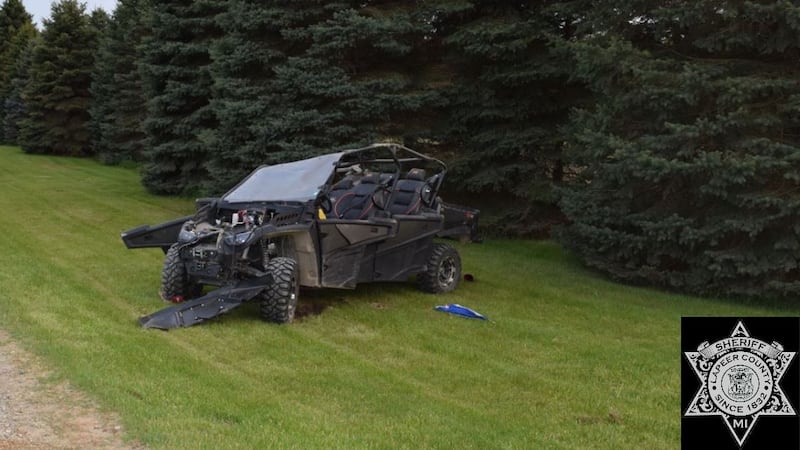 Published: May. 22, 2023 at 11:10 AM EDT
NORTH BRANCH, Mich. (WNEM) - A North Branch teenager was killed and a Marlette teenager was seriously injured in a UTV crash over the weekend.
It happened at 6:39 p.m. on Sunday, May 21 on Cedar Creek Road between Burnside Road and Martus Road in Lapeer County's North Branch.
A 2020 Intimidator, which is a four-seat UTV, was occupied by an 18-year-old Marlette teenager and a 17-year-old North Branch teenager when it crested a hill while positioned near the center of the roadway, the Lapeer County Sheriff's Office said, adding the road is gravel.
The UTV encountered another vehicle traveling in the opposite direction and maneuvered to the right to avoid collision, the sheriff's office said.
The maneuver caused the UTV to go off the road. The vehicle was able to return to the road, but never regained stability before it left the road a second time, the sheriff's office said.
The UTV entered a grassy yard and overturned multiple times, ejecting the two teenagers, the sheriff's office said, adding the teens were not wearing seatbelts or helmets.
The seatbelt safety system on the UTV was bypassed, the sheriff's office said.
The 18-year-old was found in the grass with serious injuries. She was taken to a local hospital where she remains hospitalized in serious but stable condition.
The 17-year-old, who has been identified as Kendall Coulter, was found in the road and pronounced dead at the scene.
The crash remains under investigation. If you have any information, contact Det. Sgt. Jason Parks at jparks@lapeercounty.org or call 810-656-1015.
Subscribe to the TV5 newsletter and receive the latest local news and weather straight to your email every day.
Copyright 2023 WNEM. All rights reserved.