Saginaw PD introduces new K-9 officer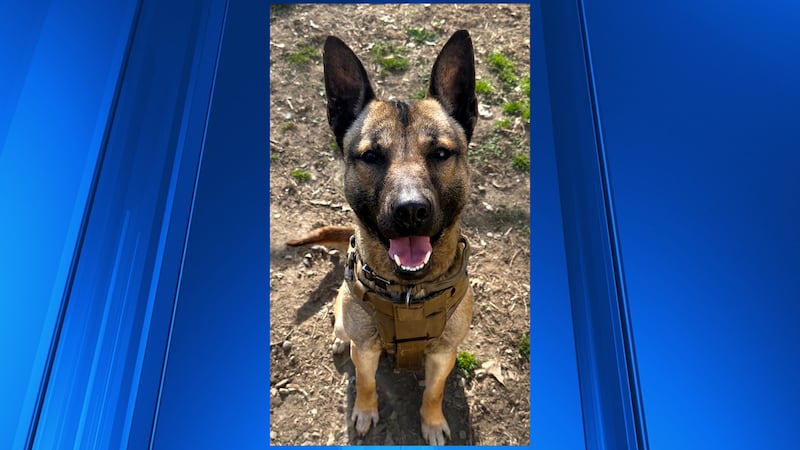 Published: May. 23, 2023 at 1:54 PM EDT
SAGINAW, Mich. (WNEM) - A new K-9 officer has been added to the Saginaw Police Department after the retirement of K-9 Cigan on Friday, May 19.
Related: Saginaw officer, K9 retire together
Taz is a 15-month-old male Shepherd/Malinois mix from Portland, Oregon. Upon completing his training program, he will join his partner Public Officer Dominic Vasquez as an official member of the police department.
Taz's training will include tracking and imprinting him with odors for detection work, which will prepare him to detect narcotics and search for lost children and vulnerable adults who wander away from their homes. Taz will soon be ready to go out on patrol with his new human partner.
The K-9 unit plays an important role in the department's efforts to curb drug activity on the streets and in the community, the department said.
Saginaw Police Chief Bob Ruth expressed his appreciation for the overwhelming support of this program.
"The addition of Taz is a huge benefit for the department and the citizens of our city. The contributions our K-9 unit brings to our force are immeasurable," he said.
The purchase of Taz was approved by Saginaw City Council at the city council meeting on Monday, May 22.
For more information on the Saginaw Police K9 Unit, visit its Facebook page.
Subscribe to the TV5 newsletter and receive the latest local news and weather straight to your email every day.
Copyright 2023 WNEM. All rights reserved.