Intense house fire in Bridgeport Twp. injures 1 firefighter, displaces family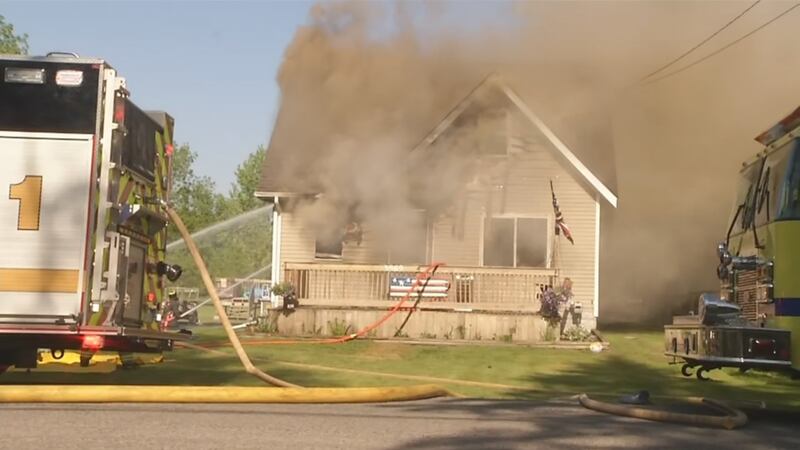 Published: May. 30, 2023 at 2:18 PM EDT
BRIDGEPORT TWP., Mich. (WNEM) - One firefighter was injured while fighting a large, intense house fire in Bridgeport Township on Monday, May 29.
The fire happened on Monday shortly before 5:30 p.m. on Olive Street and King Road in Bridgeport Township.
The call was initially for an attached garage fire, according to Bridgeport Fire Chief David Smigiel.
Smigiel said Bridgeport Fire was on scene at the deadly crash on Dixie Highway, so they weren't able to go right when the call came in.
Birch Run Fire Department, who also responded to the crash, was freed up so they responded to the fire first Smigiel said, adding Bridgeport Fire was 45 seconds behind. He said response time was very quick due to the proximity of the crash and the fire.
Related: Birch Run man killed in four-vehicle crash on Dixie Hwy
When the fire departments got there, the garage fire had advanced into the house, Smigiel said, adding the fire conditions were so intense it damaged a house next door.
He said the house was a total loss.
According to Smigiel, responding firefighters believe five propane cylinders that were located in the garage contributed to the intense fire. The homeowners said the cylinders were full and they were empty when firefighters discovered them, Smigiel said.
The family was home at the time and evacuated and there were no injuries, according to Smigiel. He added the family is displaced but their family and the Red Cross were helping them as of Monday.
Smigiel said a firefighter from the Spaulding Township Fire Department was injured due to a floor collapse.
He was taken to a hospital and his injuries were determined to be an ankle and both knees sprained. The firefighter has since been released from the hospital and will be up and running in a relatively short time, Smigiel said.
Due to the firefighter being injured, the fire is being investigated with the help of MSP and the fire marshal. Smigiel adds the cause has yet to be determined but they are leaning toward an accidental initiation.
Subscribe to the TV5 newsletter and receive the latest local news and weather straight to your email every day.
Copyright 2023 WNEM. All rights reserved.