McLaren Lapeer nurses vote to authorize strike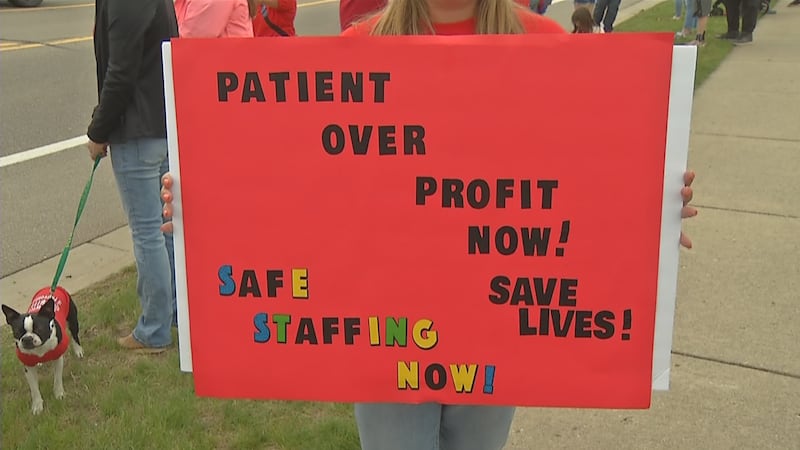 Published: Jun. 1, 2023 at 8:36 AM EDT
LAPEER, Mich. (WNEM) - Nurses at McLaren Lapeer Region Hospital have unanimously voted to authorize a strike.
The vote comes a couple weeks after the nurses rallied in front of the hospital demanding administrators offer what they say is a fair contract.
A 10-day notice would be provided to McLaren executives prior to any strike, the Michigan Nurses Association said.
There are about 250 nurses who work at McLaren Lapeer Region Hospital.
"Nurses are rising up because we are tired of watching our patients' lives be jeopardized due to corporate greed," said Carie Babcock, president of the Michigan Nurses Association local at the hospital. "We are the frontlines. We will do whatever it takes to win a contract that will protect our patients."
The MNA said nurses at McLaren Lapeer Region Hospital have been working under an expired contacted since May 9. Negotiations are set to resume June 5.
Tim Vargas, McLaren Lapeer Region president and CEO issued the following statement:
"McLaren Lapeer Region registered nurses, represented by MNA, voted to authorize the union to strike. MNA's vote was expected by McLaren Lapeer Region hospital administration as MNA has commonly resorted to such tactics to try to pressure other hospitals in almost every negotiation it has engaged in over the last several years. We will not let such antics detract us from our goal, especially considering that approximately one-quarter of our registered nurses at McLaren Lapeer Region were banned from voting by the union as they are non-union dues paying nurses. Our focus is to provide high-quality care during a difficult time in health care as we bargain for a fair and quality contract for our nurses and community hospital. To that end, we have already implemented the initial phases of our strike preparedness plan to ensure continuation of quality health care without interruption.
Despite the significant financial challenges and volume declines that many health care systems are experiencing, we have offered to invest in our nurses to improve recruitment and retention. We have worked with the union prior to and during negotiations to ensure we have safe staffing, competitive wages, and great working conditions. A strike is unnecessary to reach an agreement. The hospital has signaled its willingness to enhance wages, staffing, and practice processes without any job actions, and is not asking for concessions from the union.
As we have experienced significant reductions in our reimbursement, losses in revenue due to census drops, and challenges in the labor force, we must ensure that we reach a contract that is fair and sustainable. Currently, the nursing contract has many added benefits, such as market competitive wages and benefits, shift differential and premiums, and on-call pay, just to name a few.
The parties are still bargaining in good faith and making progress toward an agreement. Bargaining continues June 5, 7, 13 and 15. We are hopeful that these next four bargaining sessions can provide the time we need to reach an agreement."
Subscribe to the TV5 newsletter and receive the latest local news and weather straight to your email every day.
Copyright 2023 WNEM. All rights reserved.