Macron to award top U.S. general France's highest honors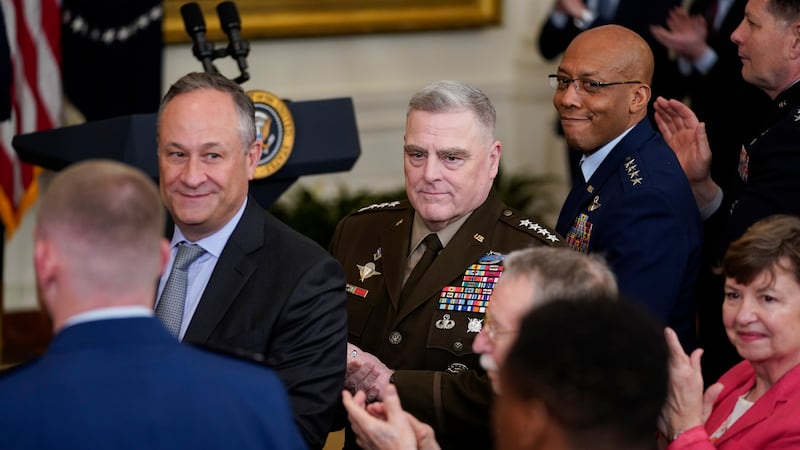 Published: Jun. 2, 2023 at 12:08 PM EDT
PARIS (AP) — U.S. Joint Chiefs chairman Gen. Mark Milley will receive France's highest medal of honor Friday for his role in coordinating support for Ukraine and for his more than 40-year military career spent in defense of democracy, French President Emmanuel Macron's office said.
Milley, who is traveling in France to attend ceremonies at Normandy to mark the 79th anniversary of D-Day, is close to finishing a four-year term as the top U.S. military officer and plans to retire when his tenure as chairman ends Sept. 30.
Macron plans to award him the Legion of Honor order of commander at a closed ceremony. The honor was created by French emperor Napoleon Bonaparte in 1802. It is awarded at various categories to about 2,000 citizens and about 300 foreigners each year for defense of French values.
"The president of the French Republic will pay tribute to the strength and quality of the ties of military cooperation that unite our two countries, and to General Milley's eminent role in this relationship," Macron's office said. "This will be an opportunity for the president to discuss the many areas of close cooperation between our two countries, from the Sahel to the Levant, against the backdrop of Russia's war of aggression in Ukraine."
Earlier this year, Macron awarded the Grand Cross of the Legion of Honor to Ukrainian President Volodymyr Zelenskyy for his country's stand against Russia's invasion.
Russian President Vladimir Putin received the award in 2006. Macron has considered stripping Putin of the honor but has said a decision to do so "should be taken at the right moment."
Copyright 2023 The Associated Press. All rights reserved.