The autumn season means the first frost and freeze is on the horizon
Chilly mornings have already appeared, but the first freeze awaits mid-Michigan
Published: Sep. 22, 2023 at 1:48 PM EDT
SAGINAW, Mich. (WNEM) - Already mid-Michigan has not been a stranger to cool mornings, and cold mornings have already shown up in northern lower peninsula. As temperatures start to trend down, the chance for the first frost and freeze becomes higher.
By definition, frost is when temperatures are at or below 32 degrees Fahrenheit. When temperatures are near freezing, meteorologists usually are referencing to a temperatures range of 29-32 degrees F. One question to many is, how can frost form when temperatures are above 32 degrees? It is possible due to the microclimate close to the surface of the ground. Since cold air is dense, it sinks can causing the cold to pool near the surface. This is why it is important to cover plants, and why farmers watch for frost on their crops. In the environment just above the surface, temperatures could be in the mid-30s.
Frost does not form only when it is cold outside because there is not frost on cars every morning. Frost forms under clear skies and calm or light winds. That allows the temperatures and dew point temperature to lower and form dew. As the dew cools to 32 degrees or colder, the frost develops on cool surfaces. If clouds are overhead, items are not able to cool out to hinder frost.
Already in 2023, morning lows have reached the 30s for locations in central, northern lower peninsula. The check boxes of clear skies, cool conditions, and calm winds have brought Houghton Lake down to 33 degrees a morning in mid-September. By definition, without reaching down to 32 degrees, the first frost has not been seen in mid-Michigan yet.
On average for Flint and Saginaw, the first frost holds off until the second week of October. Due to the elevation, Houghton Lake averages its first frost by September 23rd. The earliest frost for Flint and Saginaw is the second to third week of September, and Houghton Lake has seen frost as early as August 21st back in 2004.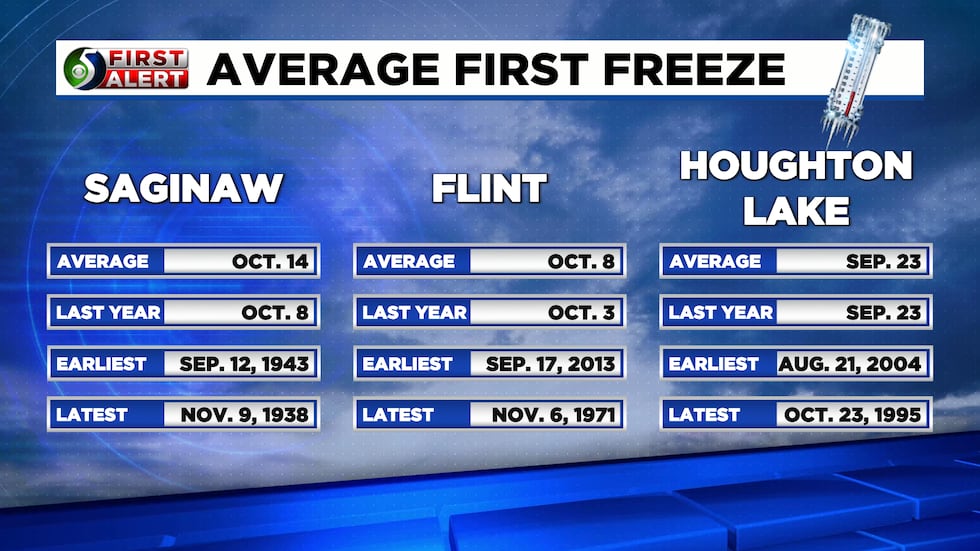 Looking at trends, October looks to come in above average. However, the average is falling for the season. Even with a mild trend early in October, frost is likely within the month. The latest frost in Saginaw and Flint is early November, and late October for Houghton Lake.
In 2022, many saw the first frost near the average date. Looking ahead with the temperatures outlook for early October, trends are for a mild start to the month. That could support frost to be later than normal. Once the cold arrives, clear skies and light winds will be needed to bring the season's first frost.
To monitor frost chances, get updates on frost advisories and insight from the TV5 First Alert Weather Team on the TV5 First Alert Weather app.
Copyright 2023 WNEM. All rights reserved.