1969 Spartan Mascot reunites with his Sparty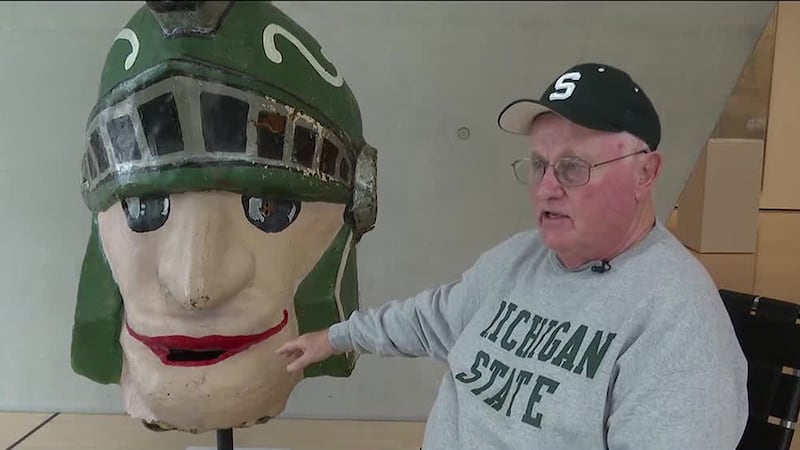 Published: Sep. 22, 2023 at 8:53 PM EDT
LANSING, Mich. (WILX) - Traveling far and wide for homecoming, many Spartans look forward to taking their picture with the mascot. Sparty has taken on many different forms over the years, and every Spartan has their own memories with him. In fact, he used to belong to a fraternity on campus.
From game day, to wedding days, the award-winning mascot is everywhere.
"Oh boy, a lot of beautiful memories," said Bruce Kefgen, a former Spartan mascot.
Some of the first Spartys can tell you, he wasn't always the big fabric suit that you see today.
"You don't know what that feels like after all these years to see him. He's a, he's a little worse for the wear, but he's my same guy and we loved him dearly," said Kefgen.
Kefgen was Sparty from 1969 to 1971, back when it was made of paper mache and fiberglass. With the help of his fraternity brothers, Kefgen maintained Sparty and attended all things MSU and beyond.
"Michigan State is a special place. Everybody is friendly and everybody gets along, and you tried very hard to put on a good show and conduct yourself in a manner that people would be proud of you," said Kefgen.
Standing at about five feet tall and weighing 40 pounds... he says the experience of wearing that Sparty on top of his shoulders was both physically and emotionally, larger than life.
"As you can see it's top heavy, so stability was a real challenge in those days. The players and the coaches were all very good to me, made sure I was taken care of, because I couldn't obviously see very much. Your mouth there is the only place you could see," said Kefgen.
Fondly remembering how each dent came to be, Kefgen says he'll never forget running into and being knocked down by the goal post. Former coach Duffy Daugherty called it the funniest thing he's ever seen.
"When you're down on the ground with this, you're like a big turtle, and you can't get over. So my fraternity brothers helped me out of it. When they took the head off there was some blood running down my face, and I'll never forget this poor little kid, he must've been eight or nine, and he's sitting in the first row, and he sees me with blood running down my face, and he turned to his mom and said 'MOM they killed Sparty," said Kefgen.
After stitches in the locker room, Kefgen promptly returned for the second half.
"but it was a wonderful experince, a lot of fun," recalled Kefgen.
Proud to be the face of the university, and truly embodying the phrase, Spartans will.
"You know wave to the kids and dance with the mascot from the other school if they had one and so on. It was a great deal of fun, and I got very good seats for the football game," said Kefgen as he laughed.
First created in the late 1950′s, the fiber-glass sparty head is now on display at the Broad Art Museum on campus.
Subscribe to our News 10 newsletter and YouTube page to receive the latest local news and weather.
Copyright 2023 WILX. All rights reserved.