Pleasant Saturday night, quiet finish to the weekend
Published: Sep. 23, 2023 at 6:00 PM EDT
SAGINAW, Mich. (WNEM) - It's been a beautiful start to the weekend, with plenty of sunshine and temperatures that have reached into the 70s this afternoon.
If you were busy Saturday or had to work, you still have a chance to enjoy some of the beautiful weather tomorrow. And even though the sun will be going down in the next few hours, pleasant weather should hold through this evening, too.
This Evening & Overnight
Temperatures in the lower and middle 70s early this evening will gradually drop into the 60s toward sunset, with a drop into the 40s and low 50s overnight. Sunset time tonight is around 7:32 PM. Find a reason to be outside tonight!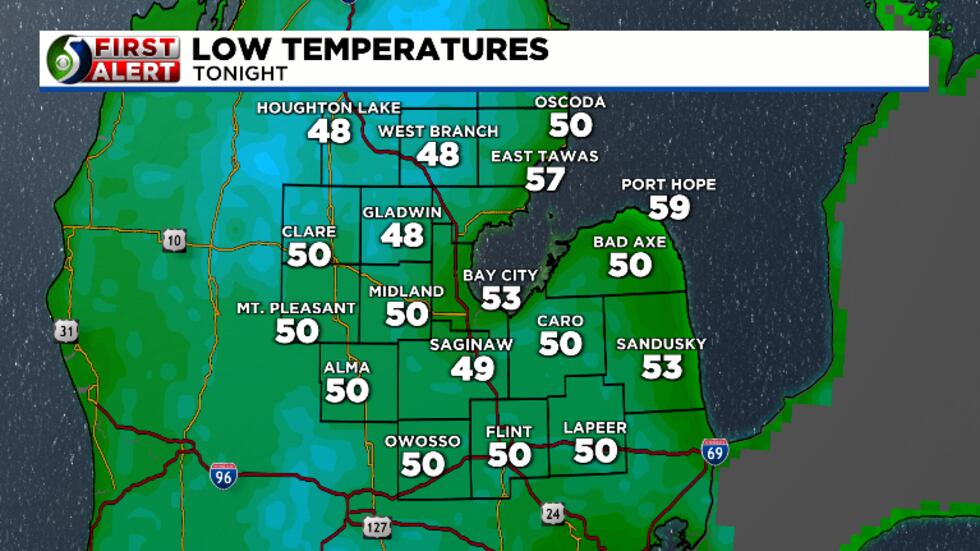 Skies will be relatively clear overnight, with a light east northeasterly wind checking in around 5 to 10 miles per hour at most.
Sunday
Skies will feature a little more cloud cover, on Sunday, primarily in the afternoon, but it won't be a huge issue as we expect the sun to remain strong through the day. Any fog on Sunday morning shouldn't last too long.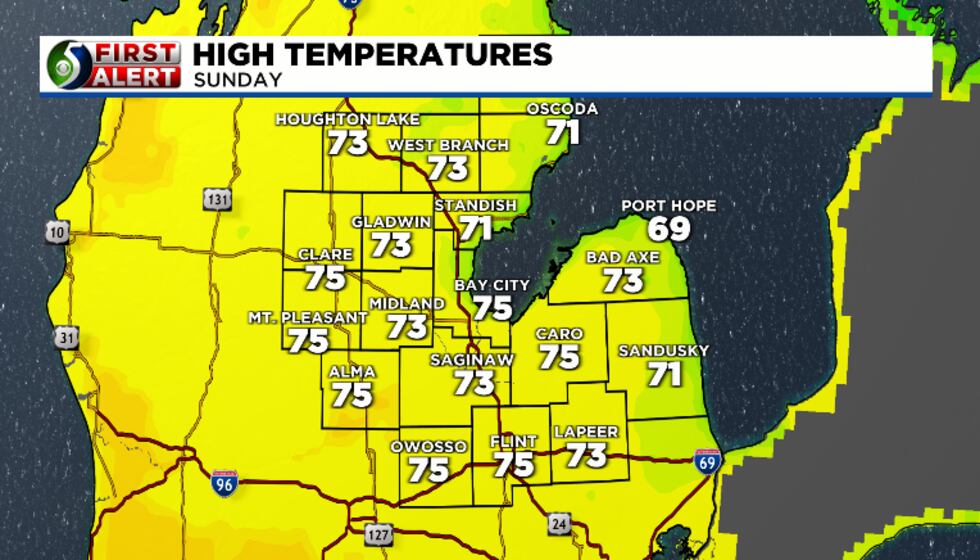 Highs on Sunday will be slightly cooler than Saturday, but we'll still likely be in the 70s for most inland areas for the afternoon. East northeasterly winds will be slightly stronger on Sunday, sustained around 5 to 15 miles per hour, with gusts between 20 to 25 miles per hour.
Clouds will increase on Sunday night into Monday morning, and while the chance for rain returns to the forecast on Monday, we should stay dry through Sunday night. Overnight lows as we go into the morning drive and bus stops early next week will be in the 50s.
Showers Early Next Week
Showers look possible the first few days of next week as some weak disturbances will pass through the region. With a drier easterly wind flow expected to hold through the first half of next week, we do expect rainfall totals to remain pretty light during this time. It's also not expected to be raining all day, every day.
Clouds will hang tough through this stretch, with highs likely in the 60s most of the time.
For a complete look, be sure to check out your First Alert 7-Day Forecast!
Copyright 2023 WNEM. All rights reserved.