Quiet Monday before a few showers return
Published: Sep. 25, 2023 at 5:11 AM EDT
|
Updated: Sep. 25, 2023 at 1:48 PM EDT
SAGINAW, Mich. (WNEM) - Although more clouds are making a return today, your Monday will be a quiet day with only a few showers possible near Flint in the afternoon and evening. The rest of Mid-Michigan will have a better opportunity for showers come the late-overnight hours and Tuesday. It's worth noting though that any rain we see over the next few days will stay light and shouldn't totally wash-out any plans you might have. If you have some leaves to clean up or grass to cut, you might want to get that done today!
Today
The day started out mild with mostly cloudy skies, and just a few moments of sun. Due to the mostly cloudy skies and an east northeast wind at 5 to 15 mph, highs won't be too much larger than where we started today at only around 72 degrees. The average high temperature today is 70 degrees, so we'll actually be just slightly warmer than average today.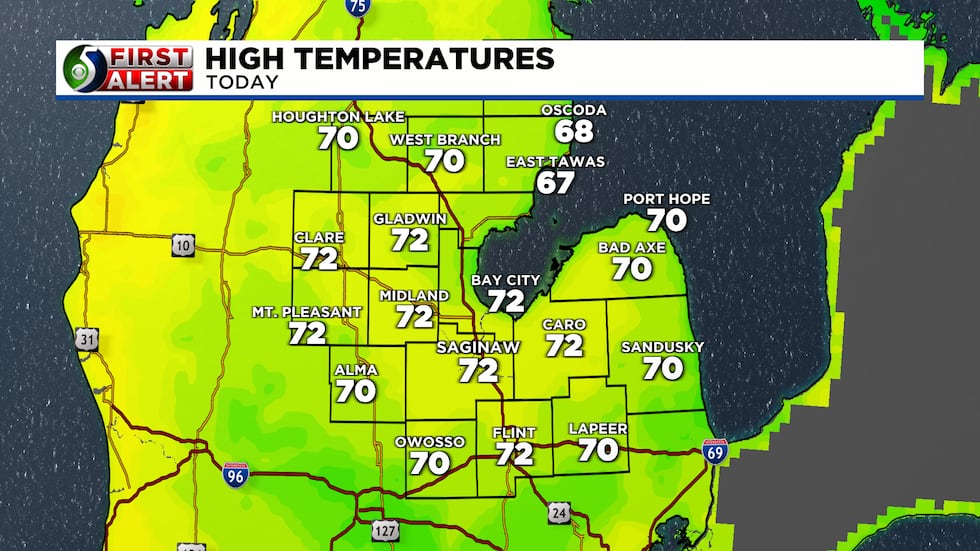 The best chance of showers today will be in the late-afternoon and evening near Flint. Rain potential is relatively higher for Metro Detroit, but some activity should be able to stray our way. Any showers that make their way into Mid-Michigan will stay light.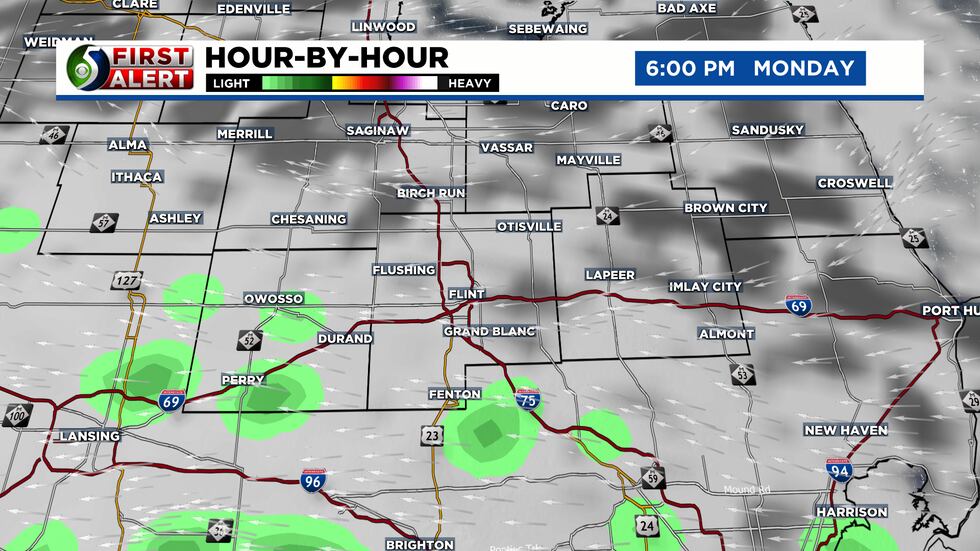 Tonight
Mostly cloudy skies are going to remain all night with a few more showers trying to move in from the south. We should actually see the coverage of these showers increase slightly near sunrise which should carry into Tuesday.
Lows will fall to 58 degrees with an east northeast wind at 5 to 10 mph making for another good night to keep your windows open and enjoy a slight breeze!
Tuesday
Scattered showers mentioned in the "tonight" section are expected to remain on Tuesday and be able to migrate a bit farther to the northwest. Most of this rain stays on the lighter-side with only a few showers possibly bringing a more moderate shower from time-to-time. We aren't expecting storms or heavy downpours with Tuesday's rain.
Tuesday will have the best chance of showers so far this week. We're expecting activity to turn isolated again by Tuesday night, Wednesday, and Thursday. As a result, rain totals will average around 0.25″ but you can give or take 0.1″ depending on if you're north or south (north, lower; south, higher). The totals below include the small accumulations of Wednesday and Thursday.
Highs will get up to around 67 degrees with an east southeast wind from 10 to 15 mph, gusting to 20 mph. We'll now be below-average for high temperatures on Tuesday, with similar numbers also in store for Wednesday and Thursday. Take a look at that in your full TV5 First Alert 7-Day Forecast!
Copyright 2023 WNEM. All rights reserved.