Published: Sep. 26, 2023 at 5:24 AM EDT
|
Updated: Sep. 26, 2023 at 12:56 PM EDT
SAGINAW, Mich. (WNEM) - We're expecting more scattered showers today as a low to our southwest continues to rotate in Illinois. Like Monday, showers have been coming in from an unusual direction for us -- the southeast -- rather than the west or southwest. Admittedly, the rain on Monday overperformed and held a lot more coverage than what we were expecting to see. At least the rain stayed light, though!
Towards the end of the week we expect high pressure and a ridge in the jet stream to build which brings fair weather back to Mid-Michigan. This will also allow above-average temperatures to return to Mid-Michigan too. Take a look at those temperatures in your TV5 First Alert 7-Day Forecast! On a side note, the average high temperature in Flint and Saginaw is 69 degrees as of today. The average high will only continue to fall, we won't see our average high return to 70 degrees until mid-May.
Today
Have your rain gear with you today! Even if it wasn't raining as you left the house this morning, hopefully your have your rain jacket as there's still a chance it could be raining when you head back home this afternoon. On the topic of those showers, today is expected to have intermittent, scattered light showers for the majority of the daylight hours. It won't rain in any given location for the entire day, but overall it'll just be damp.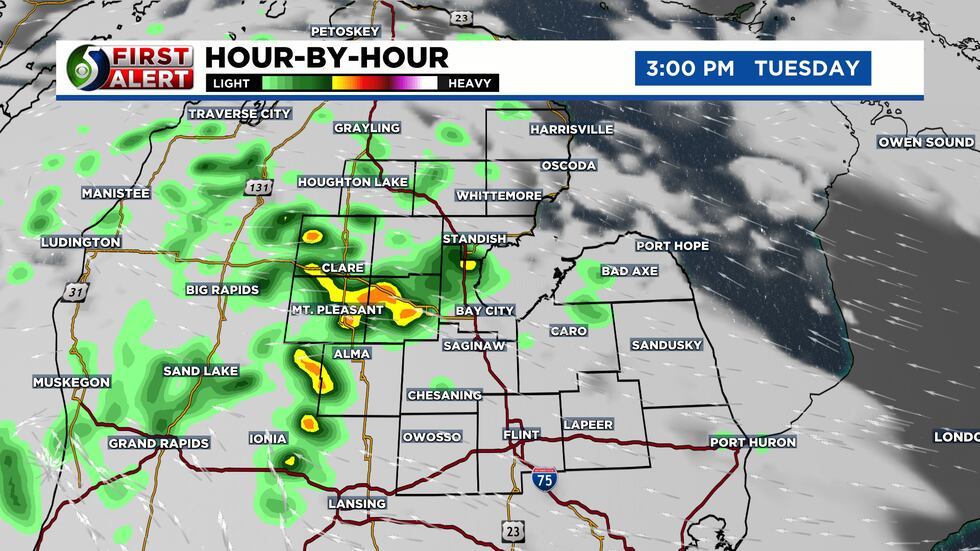 High temperatures today will only reach up to around 67 degrees. This is with an easterly wind at 10 to 15 mph, gusting to 20 mph. We'll be around 5 to 6 degrees cooler than Monday, also technically below-average by about 2 degrees (the average high for September 26th is 69 degrees).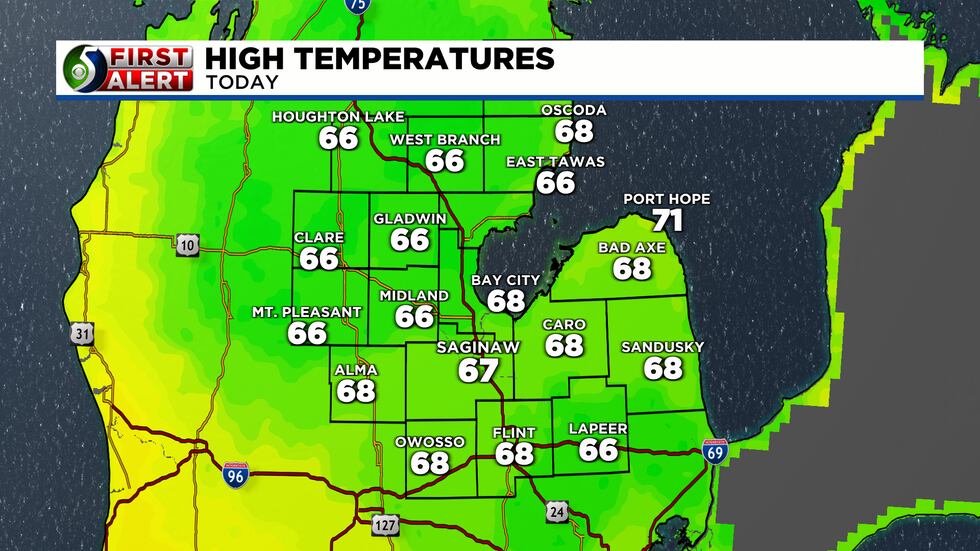 Tonight
Mostly cloudy skies are still going to hold on through the overnight hours though most rain will come to an end. We could just see a stray shower lingering. Lows will fall to around 56 degrees with the same easterly wind continuing at 10 to 15 mph, gusting to 20 mph.
Wednesday
With the low to our southwest continuing to move to the south of Mid-Michigan, it's going to take much if any remaining rain with it. At this point, we only expect some isolated showers mostly from the Tri-Cities and south. Any rain that is observed will also stay light/steady. Mostly cloudy skies will firmly hold though.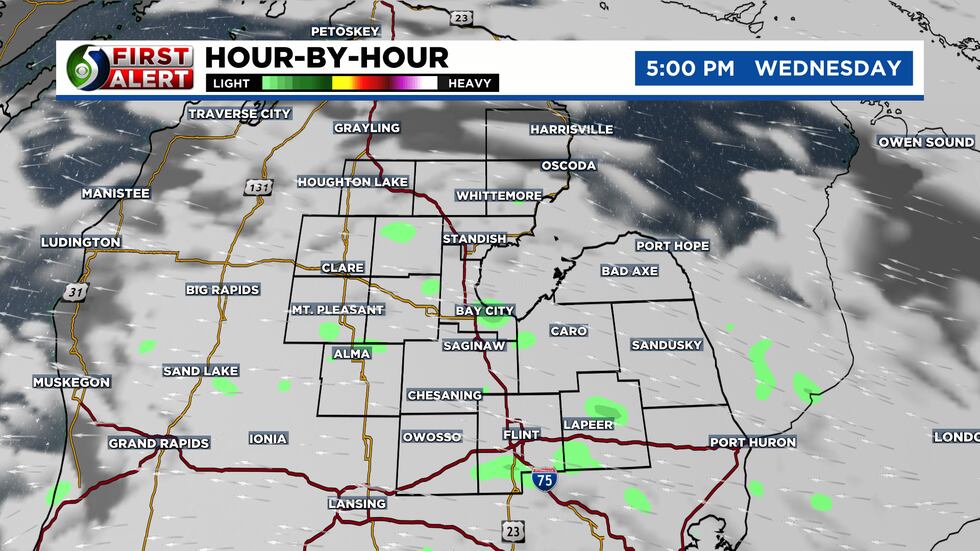 Not much rain was picked up on Monday, most totals were around 0.1″ or less. We expect around the same amount of rain out of any showers today, so by Wednesday some rain totals will collectively between Monday and Tuesday be around 0.25″.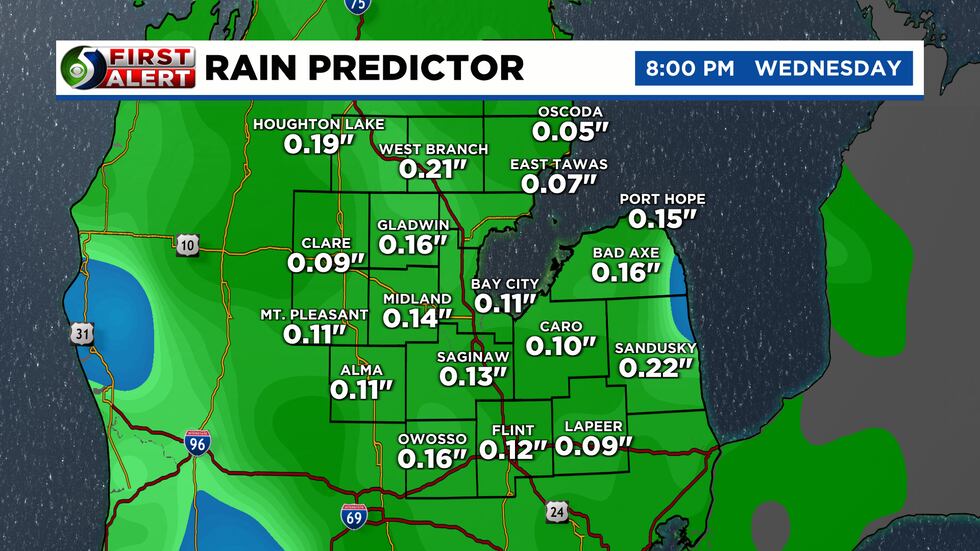 Highs will also stay a little cooler, only reaching up to around 66 degrees with an east wind at 10 to 15 mph, gusting to 25 mph. The wind will help to dry the ground a little, but a lack of significant sunshine will allow damp conditions to remain in some spots.
Copyright 2023 WNEM. All rights reserved.