Roller coaster fall weather this week!
Published: Oct. 2, 2023 at 5:44 AM EDT
|
Updated: Oct. 2, 2023 at 2:00 PM EDT
SAGINAW, Mich. (WNEM) - Unseasonably warm weather with sunshine will turn to cold weather with showery conditions by the end of this week as Michigan gives us a reality check after the nice weekend and warm start to this week. This will be as our jet stream pattern makes a complete 180 by the end of this week bringing a strong cold front to Mid-Michigan around Thursday or Friday.
In the meantime, do anything you can to get outside and enjoy this weather! Also, if you have any outdoor chores to do, the best weather for doing them will be today through Wednesday before the cooldown and attendant damp conditions arrive. We're talking hot dogs and BBQ weather to start the week, then warm cider and chili weather by the end of the week.
Today
Temperatures are warming quickly when highs this afternoon officially check in around 82 degrees. There will be a southwest wind at 5 to 10 mph. We'll also have sunshine from start to finish today. The average high temperature for October 2nd is 67 degrees which puts today at 15 degrees above-average.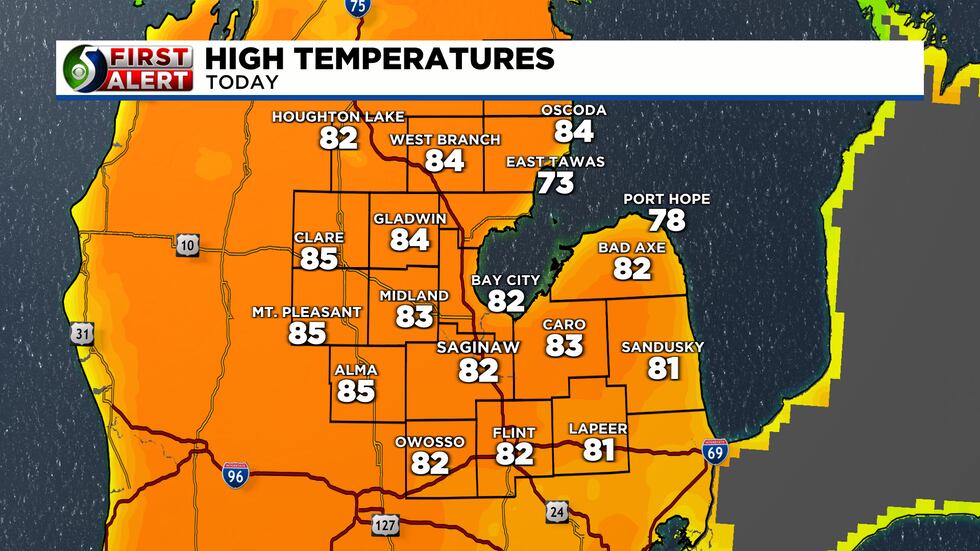 Tonight
Clear skies will hold again tonight with a calm wind and a low of 57 degrees. It is possible we have patchy fog in a few areas, but overall we aren't expecting anything drastic with the fog so it will have minimal impact on your Tuesday morning commute and bus stops.
Tuesday
Sunny skies will continue to hold again with a high around 84 degrees in the afternoon. The slight increase over Monday is due to a slightly stronger wind (relatively) at 5 to 15 mph. The wind will be directly from the south on Tuesday. Overall, it'll just another nice day with atypical weather for this time of year!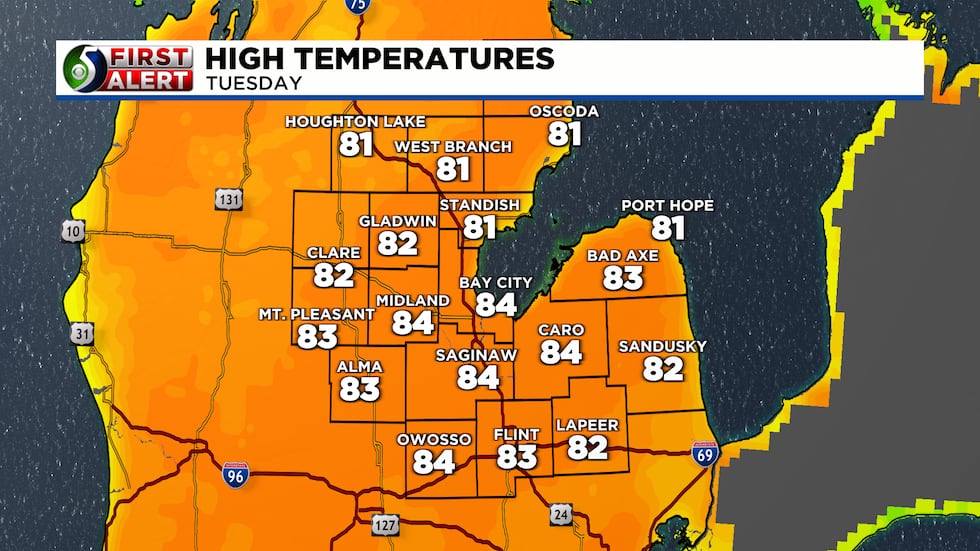 Pattern Flip = Large Cooldown
The jet stream currently has a trough of cooler air over the Rockies and the western half of the United States, while the eastern half of the U.S. and the Great Lakes are under a ridge of high pressure and warm air. Think of the jet stream as looking like a backwards capital "N" over the U.S. right now. A low that's been developing near North Dakota right in the middle of the jet stream will start to lift to the northeast through Canada starting on Wednesday, carrying into the weekend. That low will have a large and strong cold front extending south from it and will cross the Great Lakes on Thursday. With the passage of the front, before temperatures really cool down, it will bring rainfall to Mid-Michigan. This should be a widespread swath of rain that will likely bring over 0.50″ to our area.
We break into the dry slot behind the cold front on Friday which only allows a few lingering showers in our area, then the lake-effect machine takes over into the weekend with our new northwesterly wind and cold air aloft. That cold air aloft will certainly be reflected in our temperatures here at the ground. This will put highs eventually into the middle 50s by Saturday and Sunday, potentially with lows in the upper 30s Saturday night.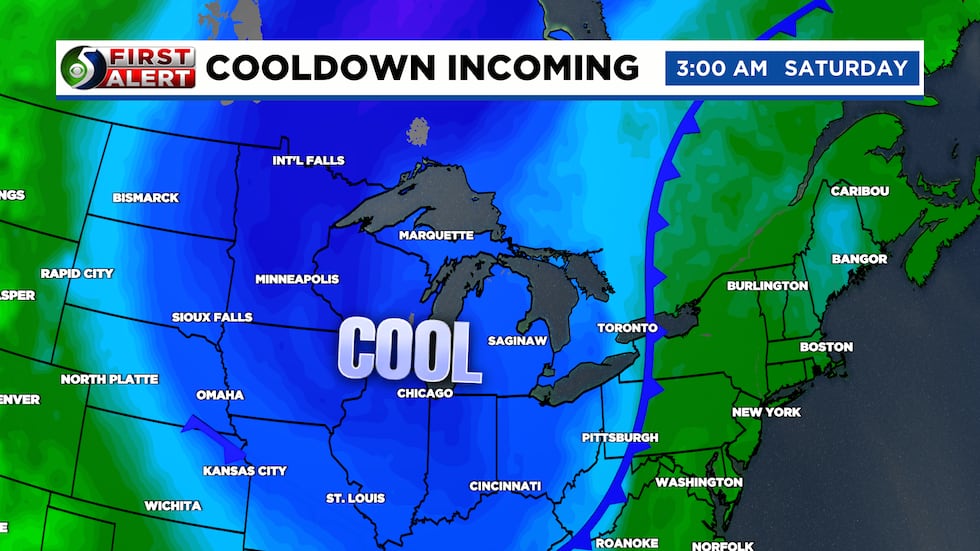 For a look at this temperature trend, head to the TV5 First Alert 7-Day Forecast!
Copyright 2023 WNEM. All rights reserved.