AG warns about USPS scam circulating via text
Published: Oct. 3, 2023 at 2:10 PM EDT
MICHIGAN (WNEM) - A smishing scam claiming to be from United States Postal Service (USPS) has been circulating via text message, which includes an alleged delivery notification and tracking link.
Michigan Attorney General Dana Nessel is warning residents about the scam and said they should never give out their personal information.
"It is critically important for people to recognize a scam like this and avoid giving out their personal information," Nessel said. "Clicking on fraudulent links can lead to identity theft, the installation of malware on your device, and could lead to your contact information being sold to other bad actors who are also looking to take advantage of unsuspecting victims."
According to the Department of the Attorney General, "smishing" is when a scammer lures the victim in by claiming a they must provide them with a password, account number, or even social security number to stop an alleged fraudulent transaction.
Once this information is provided to the scammer, they can gain access to the device and any personal information stored on it, including email, bank, credit card, or other types of accounts including social media, the Department of the Attorney General said.
Residents can protect their number and information in the following ways:
Don't share your phone number unless you know the person or organization well;

Don't assume a text is legitimate because it comes from a familiar phone number or area code;

Spammers use caller ID Spoofing to make it appear the text is from a trusted or local source.

Don't provide personal or financial information in response to the unsolicited text or at a website linked to the message;

Don't click on links in a suspicious text as they could install malware on your device or take you to a site that does the same;

Don't reply, even if the message says you can "text STOP" to avoid more messages; and

This tells the scammer or spammer your number is active and can be sold to other bad actors.

Never follow a text's instructions to push a designated key to opt out of future messages.
The Department of the Attorney General said these kinds of smishing scams are common and may look like the photo below.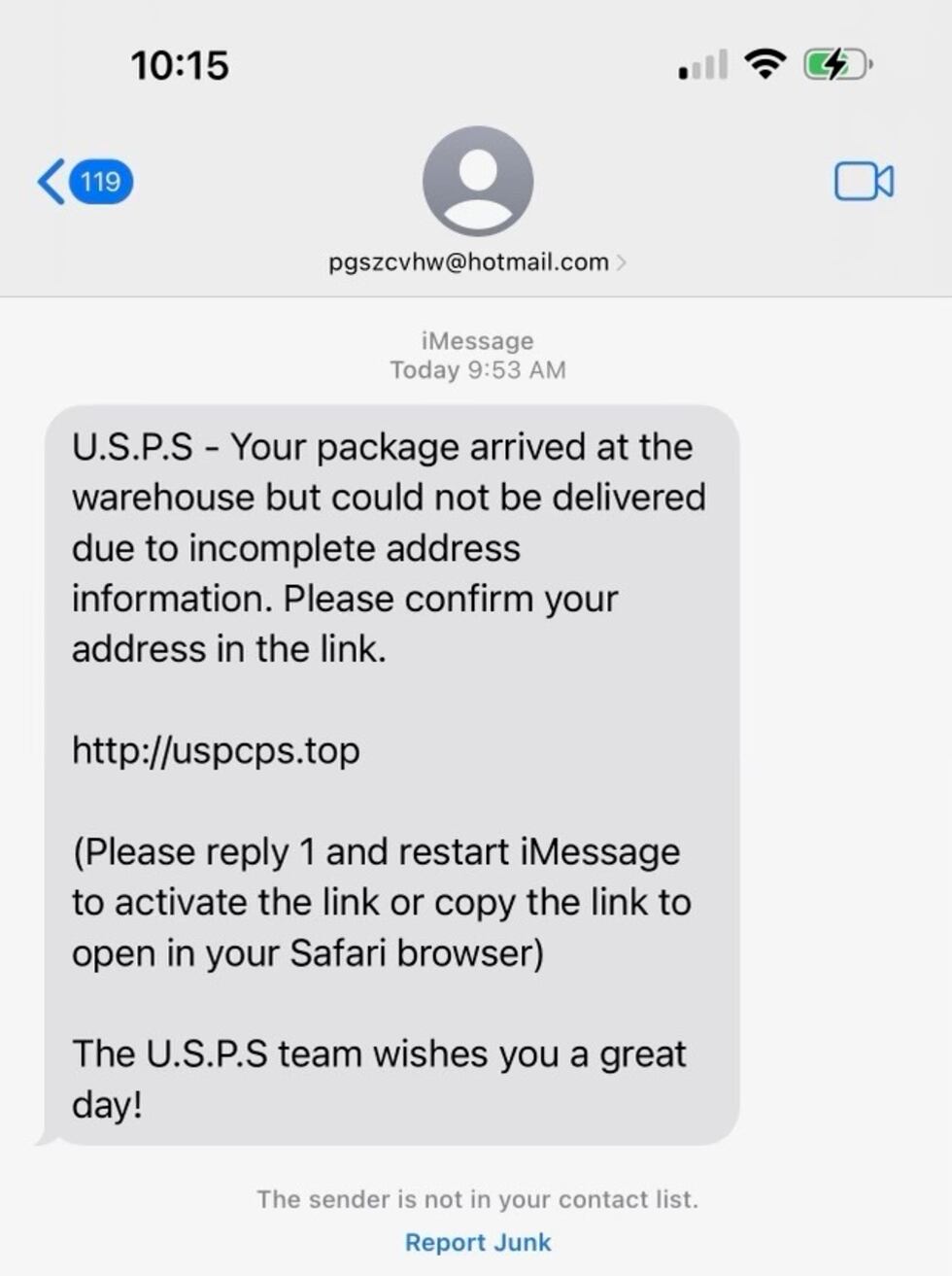 In addition to the sender's email coming from a public domain instead of the organization's, the suggested link does not match the public facing website for the USPS, the Department of the Attorney General said.
A library of consumer alerts created by the Department of Attorney General's Consumer Protection Team is available on its website. It is organized by a number of categories.
To file a complaint with the Department of Attorney General, contact: Consumer Protection Team at 517-335-7599 or 877-765-8388 for Toll Free. Residents can also fill out an online complaint form.
Subscribe to the TV5 newsletter and receive the latest local news and weather straight to your email every day.
Copyright 2023 WNEM. All rights reserved.