Dry opening day, highs approach 60 Wednesday
Published: Nov. 14, 2023 at 4:55 PM EST
SAGINAW, Mich. (WNEM) - We've been gifted another beautiful November day!
Of course, there are some, perhaps many, who are wishing for the snow to fall at this point in the year. That may be especially true for those who are headed out to the woods for opening day on Wednesday morning. But there will be plenty of time in the months ahead, and if you're still working outside, you have a great chance to take advantage of the weather this week and get those last minute things done.
This Evening & Overnight
Skies will remain clear to partly cloudy through the first half of the night, before we see an increasing cloud trend into the overnight hours. Despite any clouds moving in overnight, you have no worries with any precipitation tonight.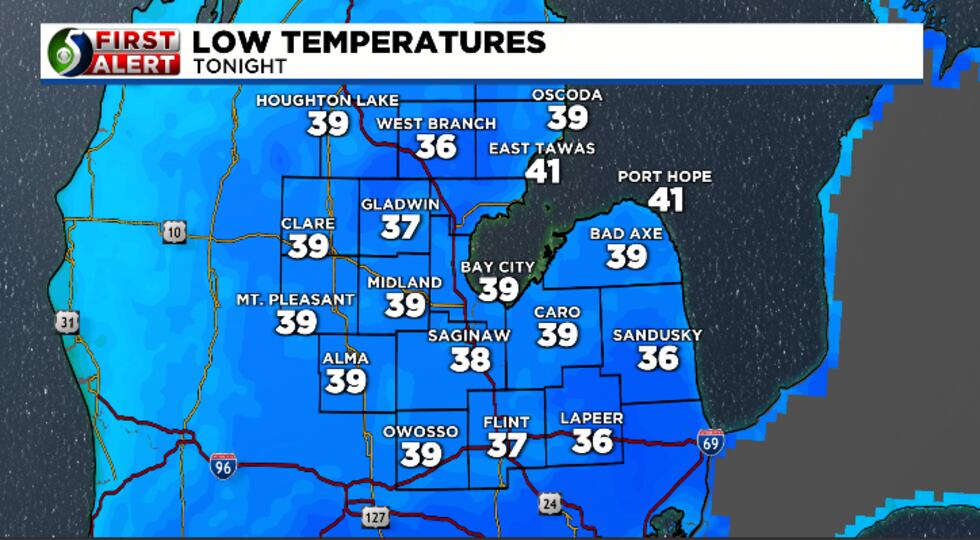 Temperatures are expected to be in the 40s and 50s early this evening, cooler than last evening at this time, but with clouds moving in and a southwesterly wind picking up overnight, we shouldn't drop quite as far as last night, where many of us ended up in the 20s. We will likely be closer to the upper 30s and low 40s tonight.
Those southwesterly winds will be around 5 to 15 miles per hour, and have the potential to gust between 20 to 25 miles per hour right through the early morning hours on Wednesday. Plan for wind chills in the lower to middle 30s tomorrow morning.
Wednesday
Although clouds are expected to start the day, skies will clear rapidly through the morning, with mostly sunny to completely sunny skies expected by the lunch hour on Wednesday. Southwesterly winds that build into Wednesday morning will build even more through the morning on Wednesday, with gusts near 25 to 30 miles per hour.
That wind, combined with our widespread sunshine, should boost temperatures back into the upper half of the 50s to low 60s for highs.
We'll keep the sun going before sunset, with mostly clear skies expected for much of Wednesday night. Clouds will gradually build through the day Thursday ahead of our next rain chance Thursday night, but we won't see any precipitation prior to 12 AM Friday, unless we see a big swing in our forecast data.
Lows on Wednesday night will be in the 30s.
Copyright 2023 WNEM. All rights reserved.