Rain returns late tonight, drying out for the weekend
Published: Nov. 16, 2023 at 5:33 PM EST
SAGINAW, Mich. (WNEM) - It's been another beautiful day around Mid-Michigan with warm temperatures, plenty of sun, and dry conditions.
Although many are likely still enjoying it, we know this time of year many are ready to turn the page toward winter. Don't worry if you're one of those people! It appears a pattern change is on the way next week and a chance for snow will eventually return. In the meantime, if you're still hustling to finish those outdoor projects and yard work, you have a good stretch of weather to finish up before more inclement weather arrives next week.
Be sure to check out your TV5 First Alert 7-Day Forecast for a preview on next week's cool down!
This Evening & Overnight
We expect this evening to be dry, despite the increase in cloud cover that we've seen at times today. We'll trend overcast into the overnight and eventually rain will start developing the closer we get to the morning commute on Friday. We expect the earliest showers to develop around 3 AM, with the chances increasing into the morning hours.
Temperatures will be following an out of the ordinary trend tonight, with highs for Friday likely being achieved at midnight in the middle to upper 50s, and falling through the day Friday. Winds will pick up overnight, with a southwesterly flow around 10 to 20 miles per hour, gusting near 30 miles per hour.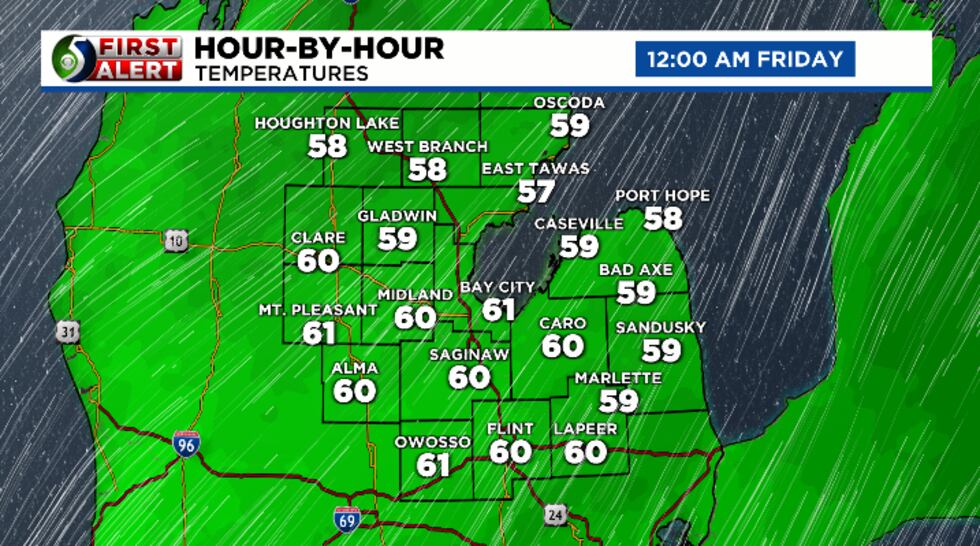 Temperatures will be in the 30s to the northwest and 50s to the southeast tomorrow morning.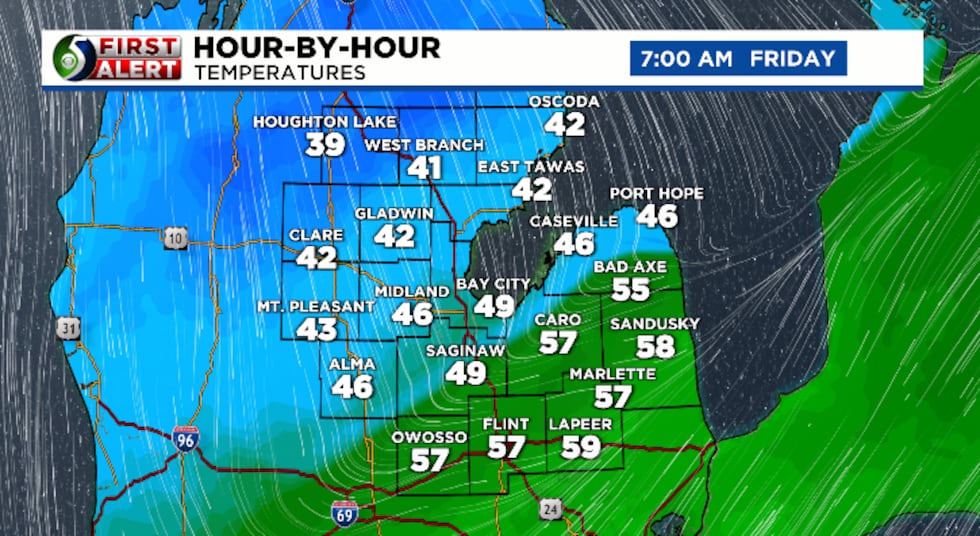 Friday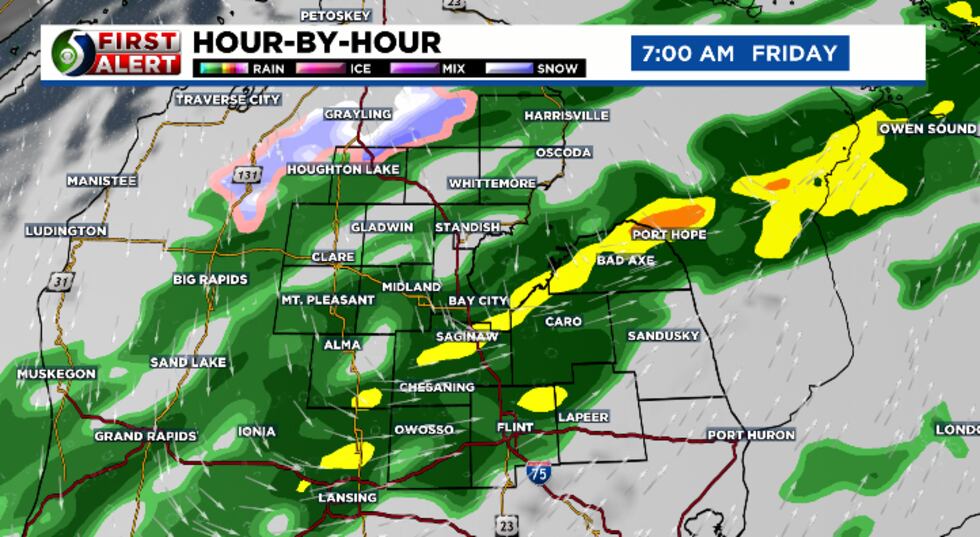 Rain will be most likely during the morning hours on Friday, before winding down from west to east through the morning and early afternoon. Rain should end everywhere by 1-2 PM with the eastern and southeastern Thumb being the last to clear. No severe weather is expected, and rainfall amounts should mostly check in around 0.25″ or less, with those going above that mark not doing so by much.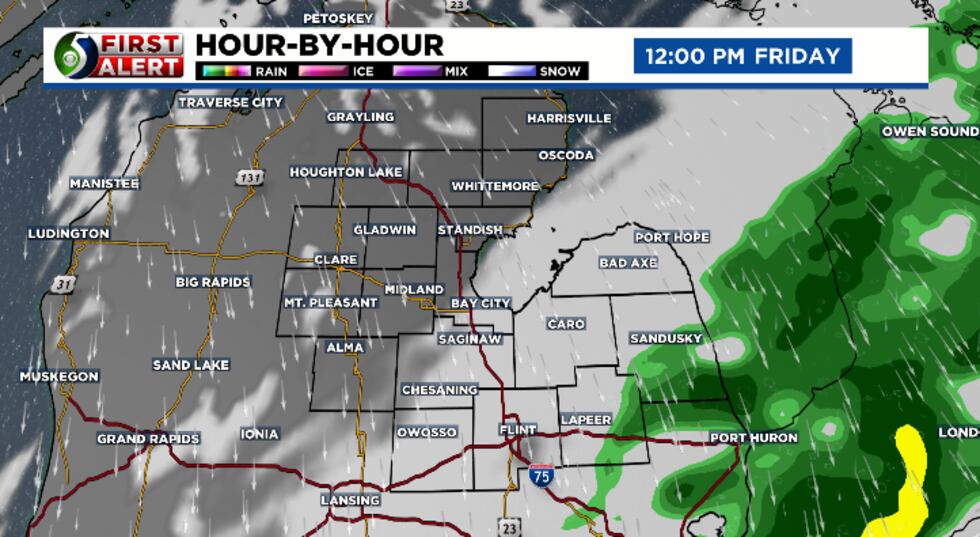 Temperatures will cool down into the 40s by the afternoon if not sooner, with 30s and 40s for your Friday evening plans. Wind chills will likely be closer to the 20s and 30s with the north northwesterly winds around 5 to 15 miles per hour.
Skies will clear during the afternoon and evening, and with temperatures already falling, we're in for a chilly night. Lows into Saturday morning will be in the 20s.
Saturday & Sunday
The weekend is expected to be beautiful, with plenty of sun and temperatures hovering close to normal. It may be breezy at times, but that's to be expected during this time of year. Thankfully it doesn't look as though the wind will be overwhelming.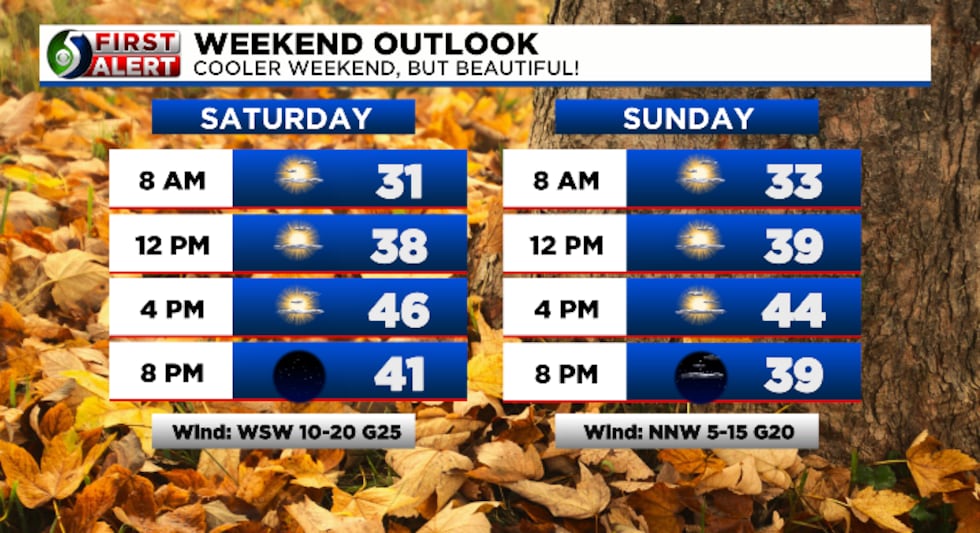 Copyright 2023 WNEM. All rights reserved.