Pleasant weekend ahead, looking ahead to next week
Published: Nov. 17, 2023 at 5:53 PM EST
SAGINAW, Mich. (WNEM) - Rain passed through the area quickly this morning, and we've seen plenty of sun move back into the area in its wake.
Temperatures have cooled down significantly behind the front, going from 50s and 60s at midnight, to 30s and 40s as we get set to get your Friday evening plans underway. As we head into the weekend, dry and pleasant weather continues, but be sure to take advantage while you can if you still have outdoor things to get done. Next week, it appears we'll be heading toward some true November.
For a preview of next week, be sure to check out your First Alert 7-Day Forecast.
This Evening & Overnight
Beyond the cold, you should have no worries with any inclement weather this evening. Winds should come down from the windy night last night and the breezy conditions of today, to only around 5 to 10 miles per hour at the most overnight, with some going completely calm. Those winds will shift to the southwest by Saturday morning.
Temperatures this evening will have no trouble falling with the clearer skies and the lighter wind. We'll be in the 30s and 40s initially this evening (wind chills in the 20s and 30s) and drop to the 20s for overnight lows.
Saturday & Sunday
Skies are expected to be mostly sunny or better through the weekend, with only subtle differences between the two days.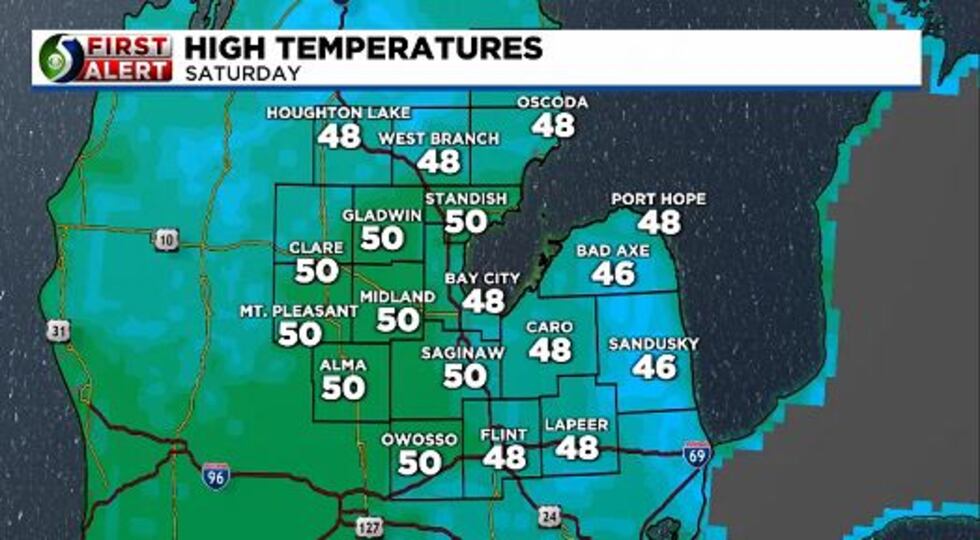 Highs are expected to be warmer on Saturday with more of a west southwesterly wind, topping out in the middle 40s to around 50. Those west southwesterly winds should be around 10 to 20 miles per hour, with gusts near 25 miles per hour.
Overnight lows will stay just a touch warmer than Saturday morning, with temperatures Saturday night dropping into the upper 20s and low 30s.
High temperatures on Sunday will be slightly cooler as our winds take more of a north northwesterly turn, but we should still manage to be close to normal in the lower and middle 40s. Winds on Sunday should be around 5 to 15 miles per hour.
Things To Watch Next Week
We are keeping an eye on a few things next week as we approach the Thanksgiving holiday. First, a system is expected to move through the region on Tuesday of next week. As of now, this seems to be more of a rain maker for us, if it does indeed pass through our area. Today's models have been taking the system farther south, so we'll need to monitor that in the coming days.
Secondly, we expect lake-effect snow to develop behind this system on Wednesday as colder air filters into the region. It's far too early to feel confident in the specifics of lake-effect snow, especially with our area being farther away from Lake Michigan. But, if you are traveling to the west side of the state, be sure to stay tuned.
There will likely be some wind next week, but right now gusts don't look too extreme (30 miles per hour or so). Like lake-effect snow, it's too early to feel completely confident in specifics, but we're not overly concerned at the moment.
Plan for temperatures to take a dive next week, with highs trending much cooler in the 30s by Wednesay and beyond!
Copyright 2023 WNEM. All rights reserved.