Cloudy Monday before Tuesday rain
Published: Nov. 20, 2023 at 5:38 AM EST
|
Updated: Nov. 20, 2023 at 1:30 PM EST
SAGINAW, Mich. (WNEM) - Cooler (though normal for this time of year) temperatures and quiet weather remain for your Monday! We'll just have cloudy skies making a return. With the dry weather, take advantage of today if you have anything outdoors to get done! Maybe it's that last leaf cleanup of the year or just taking a longer walk outdoors, conditions will be pleasant today.
The incoming rain Tuesday is expected to last for most of the daylight hours before winding down in the evening. After that, the rest of the week is dry with Thanksgiving in nice shape! If you have any Thanksgiving travel later this week, we don't expect any issues locally, as well as for most of the Great Lakes Region. Take a sneak peek at the Thanksgiving outlook in the full TV5 First Alert 7-Day Forecast!
Today
Cloudy skies are settling into Mid-Michigan but aren't carrying any rain. Highs today will reach 43 degrees for many, though 41 degrees comes in farther north. The wind will be east southeast at 10 to 15 mph, gusting to 20 mph. With that wind, wind chills will peak around 36 degrees this afternoon so it is going to feel brisk, but wind chills won't be extreme.
Tonight
Overcast conditions are going to hold for the entirety of the overnight before the leading edge of the rain from the incoming storm system arrives. These showers will get started around 4 AM near Owosso and Flint, then closer to sunrise in our northern counties as the showers progress northward. Any rain will be light.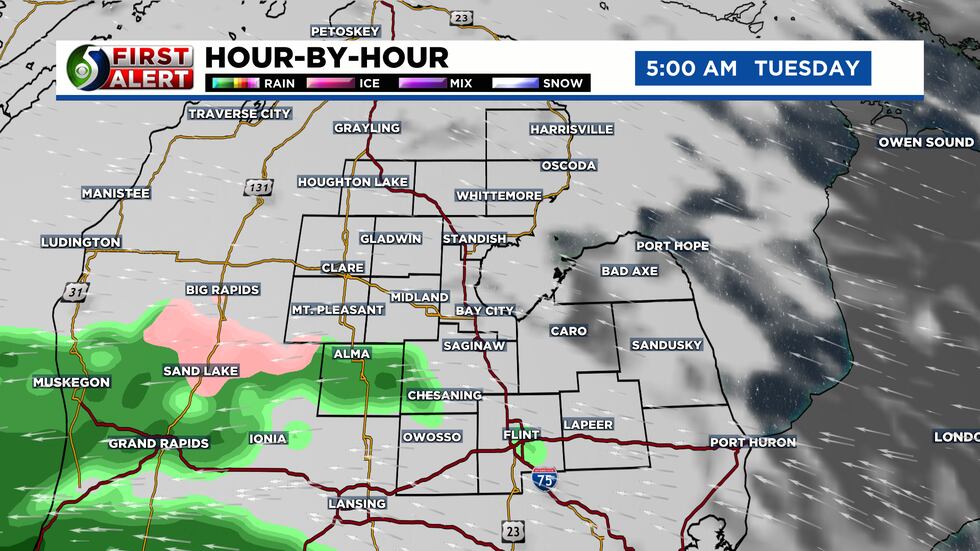 Lows will fall to around 32 degrees, though upper 20s are in store for our northern counties. The wind will still be swift overnight with a speed of 10 to 15 mph from the east.
Tuesday
The below-freezing start up north will allow for some snow to mix in along the leading edge of the rain. Even if some snow is observed, it's going to have a hard time sticking, mostly just on decks, cars, or outdoor furniture initially.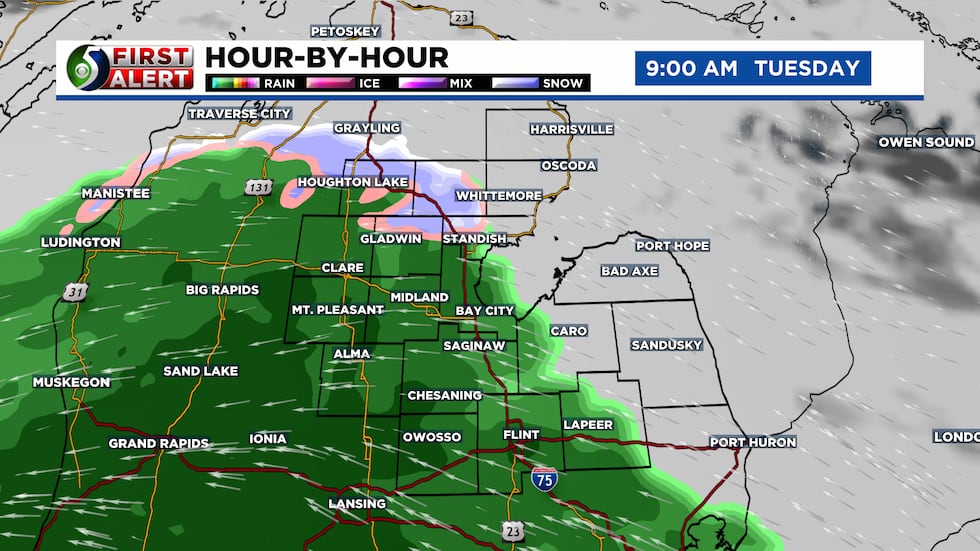 By late-morning and noon, any snow showers up north will have switched over to rain. Mid-Michigan as a whole will be seeing a widespread, steady rain at this point. This swath of showers will continue moving north as the afternoon progresses, but it will stay widespread for the bus stops in the afternoon so have your rain gear ready to go!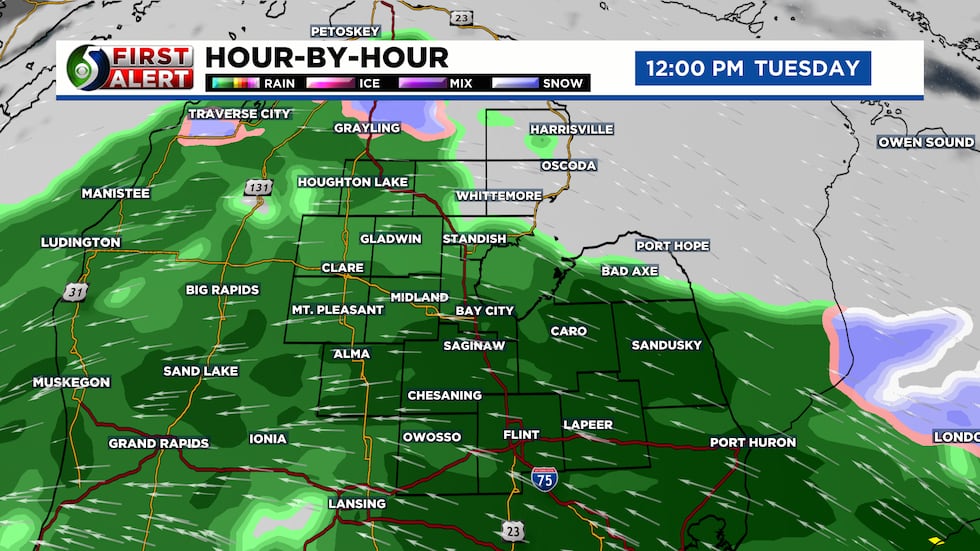 In the evening commute and dinner, the rain will slowly begin clearing up becoming more isolated. The rain will continue to wind down through the evening and come to an end completely right around midnight Tuesday night.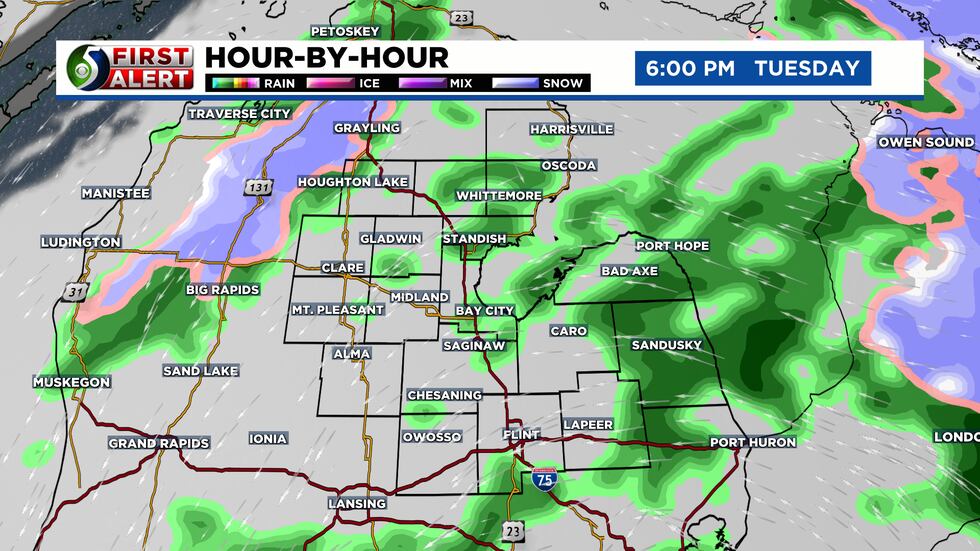 Rain totals will range from 0.25″ to 0.75″ in a north to south fashion. Houghton Lake, West Branch, and Oscoda will come in closer to the 0.25″ mark with Owosso, Flint, and Lapeer coming closer to the 0.75″ mark. The Great Lakes Bay Region will settle in closer to 0.5″.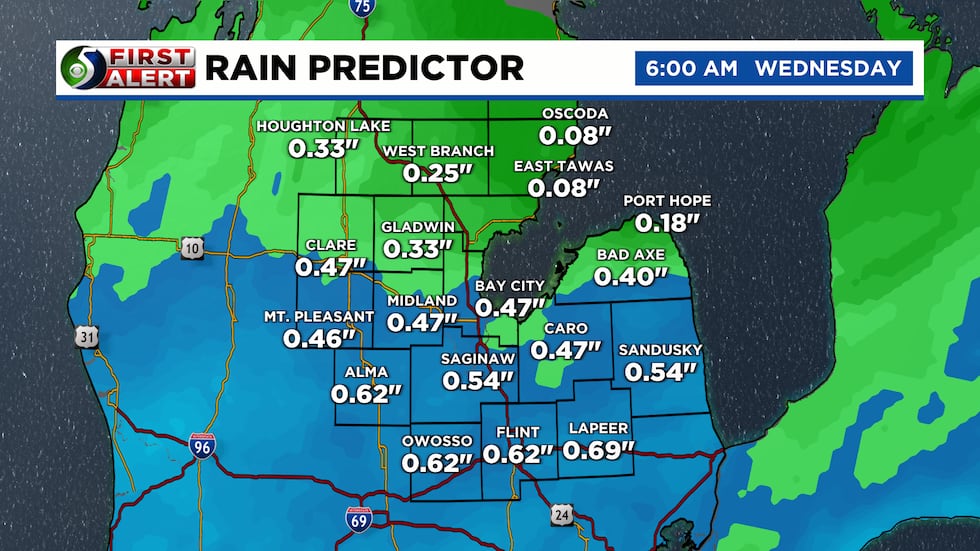 Highs will be at nearly the same level as Monday ranging from the lower to middle 40s with an east wind shifting northeast at 10 to 15 mph, gusting to 20 mph. The average high temperature this time of November is 43 degrees.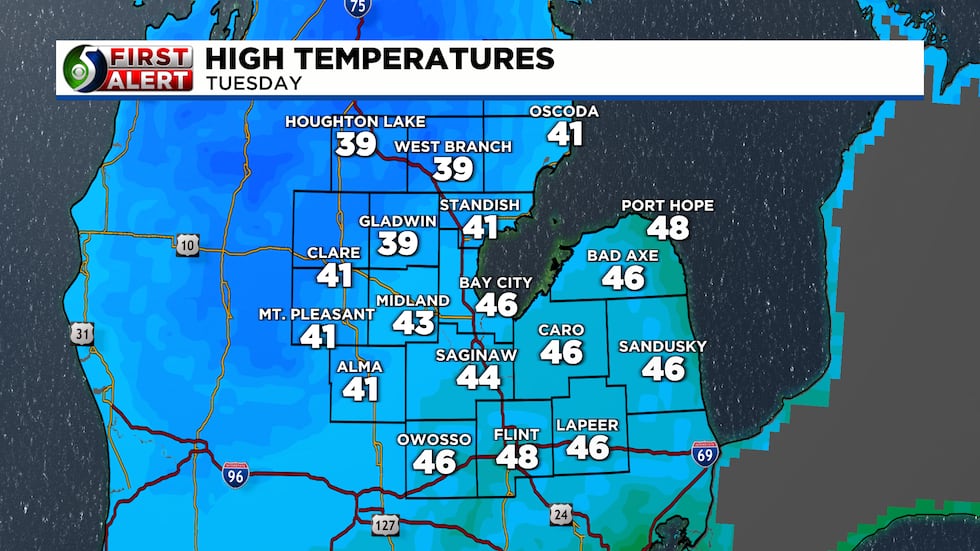 Copyright 2023 WNEM. All rights reserved.