Rain moves in Tuesday, drying out for busy travel Wednesday
Published: Nov. 20, 2023 at 6:23 PM EST
SAGINAW, Mich. (WNEM) - As we've started a new workweek, perhaps a shortened one for many, clouds have taken over our skies once again.
The wet weather has held off thus far and should continue to do so this evening, but our Tuesday looks pretty soggy. But thankfully if you're getting your travel underway early, we shouldn't have any hazardous weather moving in tomorrow. Temperature wise, we should see some pretty typical November fare this week.
For a preview of the entire week, be sure to check out your First Alert 7-Day Forecast!
This Evening & Overnight
As we work through this evening, beyond some chilly temperatures, we're in great shape. Wind chills will be a factor tonight, with those values likely hovering in the 20s much of the night. The winds responsible for that will be from the east southeast around 5 to 15 miles per hour with gusts near 20 miles per hour.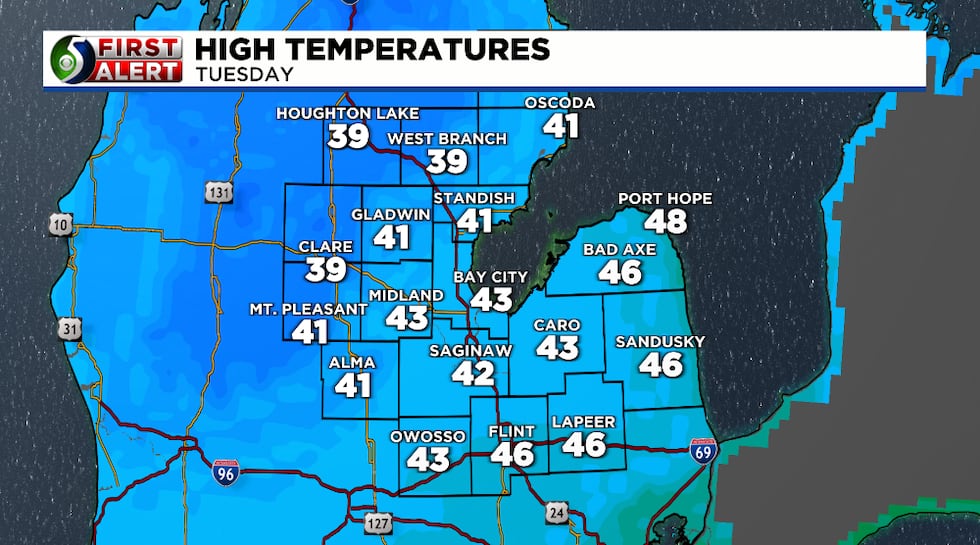 Actual temperatures will drop into the lower and middle 30s tonight.
Rain will move into the area during the morning commute on Tuesday, arriving in our southwestern areas (Gratiot, Shiawassee) around 5 AM, spreading northeast through the morning. Most areas should be seeing wet weather by 9-10 AM. A few snowflakes may be possible in the far north, but overall this event should be mostly rain for us.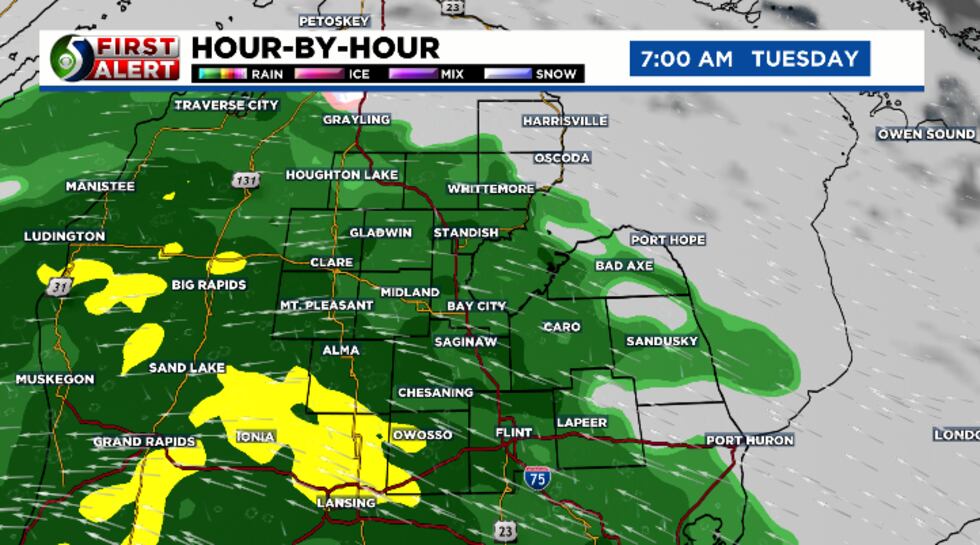 Tuesday
Once rain arrives, we should see chances continue through the morning and afternoon before things start slowing down gradually during the evening hours. We do not expect any severe weather with this event, and rainfall amounts should remain fairly manageable.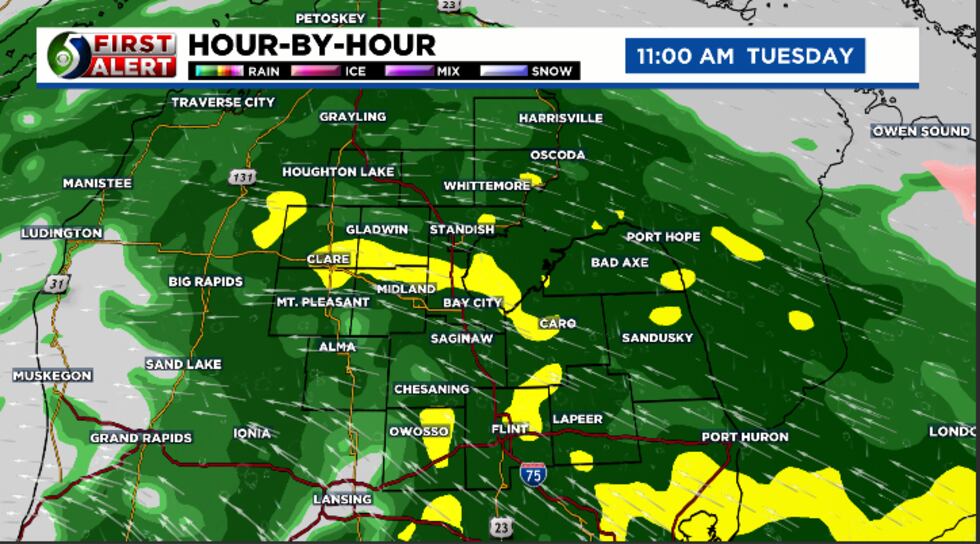 Current rainfall projections are landing in the 0.50″ to 1″ range for most areas, though some of our far northwestern areas near Houghton Lake may be just slightly less.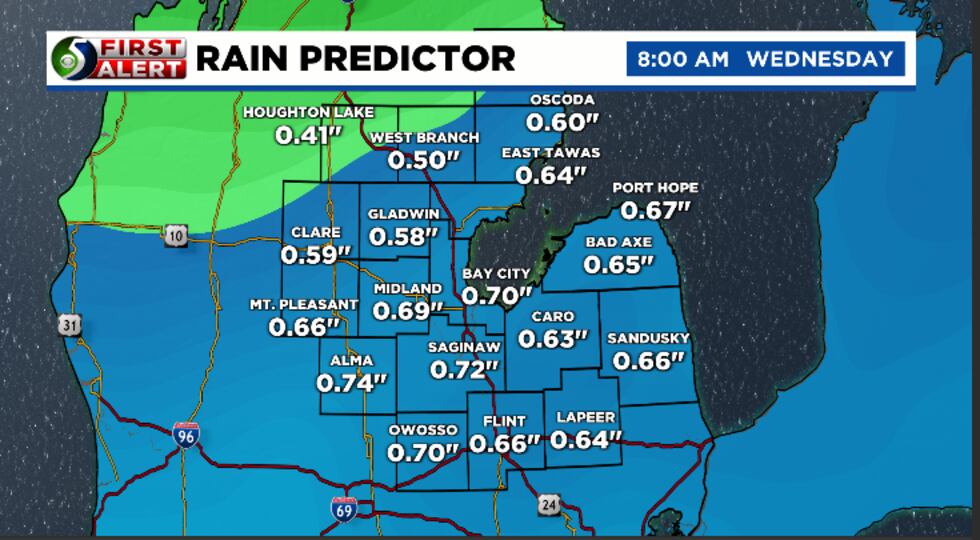 Highs on Tuesday will be in the 30s and 40s, with an east southeasterly wind remaining breezy on Tuesday around 10 to 15 miles per hour, with gusts near 25 miles per hour.
After the rain moves out, drizzle may linger through early parts of the evening, before we dry out toward Wednesday morning. Overnight lows on Tuesday night will be around the lower and middle 30s.
Wednesday
Clouds will hang tough on Wednesday morning, but we should see some sunshine before the day is over, even if it's partial sunshine. If you're getting your travels underway on Wednesday, locally we do not expect any issues and it appears much of the country will be quiet. The east coast and the northeast will likely have some wet weather, rain in the middle and southern east coast, with snow accumulating in northern New England, but much of the country should be dry.
Montana, Idaho, and Wyoming could potentially see some snow accumulation as well, but these areas seem to be receiving most of that on Thursday.
Highs here in Mid-Michigan on Wednesday will likely be in the lower and middle 40s, with a northwesterly wind around 10 to 15 miles per hour.
Copyright 2023 WNEM. All rights reserved.