AAA activating 'Tow to Go' in Michigan for Thanksgiving holiday weekend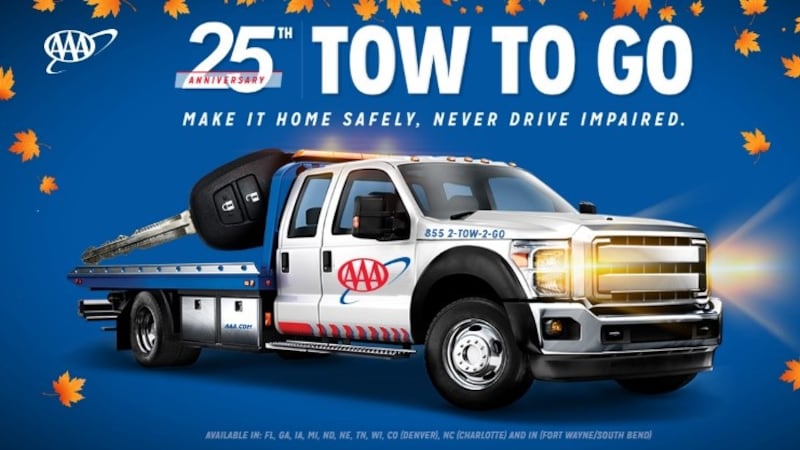 Published: Nov. 21, 2023 at 7:06 AM EST
LANSING, Mich. (WILX) - AAA is activating its Tow to Go program in select states, including Michigan, for those with car trouble or as a free service in an effort to keep impaired drivers off the road.
This is the 25th year AAA has provided the Tow to Go program.
Tow to Go can provide a ride for one person and their vehicle to a safe location within a ten-mile radius. The service is free and available to AAA members and non-members.
AAA said appointments cannot be scheduled in advance to use Tow to Go. It is designed as a safety net for those who did not plan ahead.
"Tow to Go serves as that last line of defense in keeping impaired drivers off the road," said Adrienne Woodland, a AAA spokeswoman. "If you plan to consume alcohol or drugs this weekend, make plans for a safe ride home first. If your plans fall through, you can call AAA and we'll get you to a safe place."
The service will be provided from 6 p.m. Wednesday, Nov. 22, to 6 a.m. Monday, Nov. 27.
Tow to Go may not be available in rural areas or during severe weather conditions.
Call the service at (855) 2-TOW-2-GO or (855) 286-9246.
Subscribe to our News 10 newsletter and receive the latest local news and weather straight to your email every morning.
Copyright 2023 WILX. All rights reserved.