Cold, rainy Tuesday though Thanksgiving remains pleasant
Published: Nov. 21, 2023 at 5:09 AM EST
|
Updated: Nov. 21, 2023 at 12:58 PM EST
SAGINAW, Mich. (WNEM) - A storm system moving into the Great Lakes has allowed our next round of rain to begin very early this morning. This rain is going to stick with us for the majority of the day, but fortunately this system moves out of here swiftly! This does allow for dry weather to return Wednesday, and Thanksgiving remains in good shape too. Additionally, Friday and Saturday also remain dry before a small chance of snow showers Sunday. For a look towards the Thanksgiving stretch, head over to the TV5 First Alert 7-Day Forecast!
Today
Today's forecast won't be getting rave reviews. It's a cold rain, so bundle up and have your umbrella ready to go! The afternoon trip home from school will have scattered to widespread showers still, though it will be starting to wind down at that time.
With rain winding down later today, this does mean the evening commute will start to have conditions clearing up. With coverage of the rain more limited, we'll begin to see some roads drying out. One thing to watch this evening though is rain showers potentially shifting back over to snow after sunset. Any potential snow would remain limited, but it's certainly possible!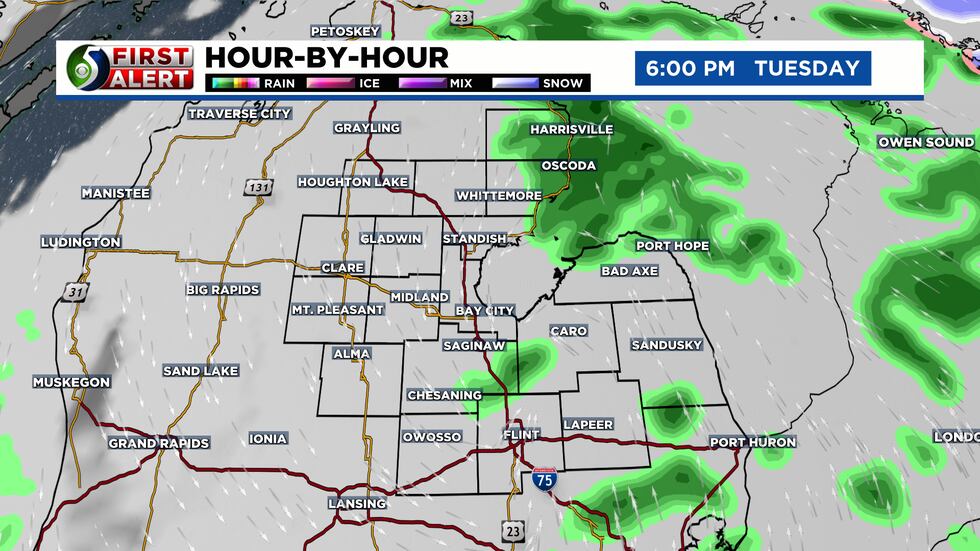 Rain totals by the time everything wraps up overnight will be a widespread 0.5″ to 1″. These totals have trended upwards just a little bit. Even though the leaf drop is nearing its end, make sure any storm sewers and street gutters are clear of debris to ensure proper drainage!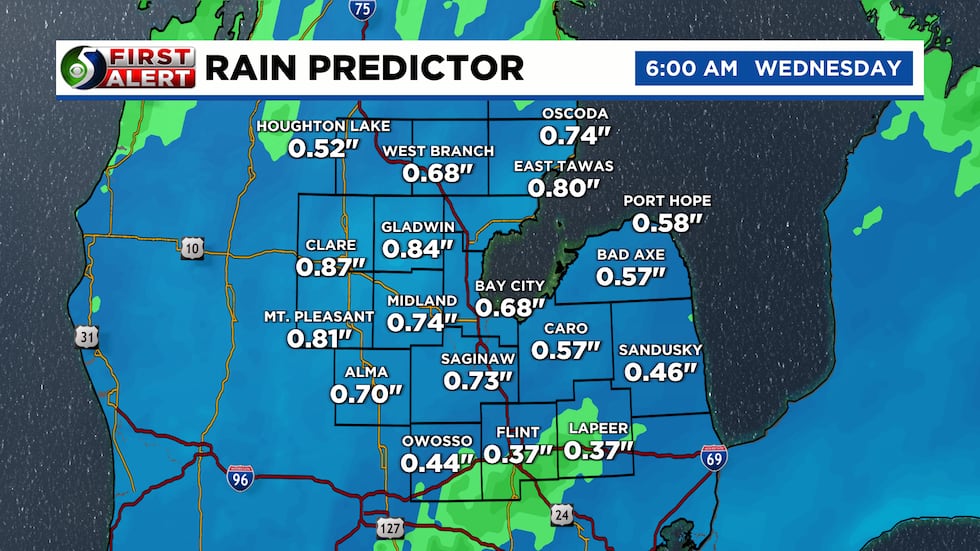 Highs today will also vary depending on location. Our northwestern counties are likeliest to stay colder, potentially only reaching 39 degrees, while the Great Lakes Bay Region only comes closer to 42 degrees. Flint may only reach around 45 degrees briefly. The wind will also have more of a variable direction today, but generally shifting from the east to the north. Speeds will be from 10 to 15 mph, gusting to 20 mph.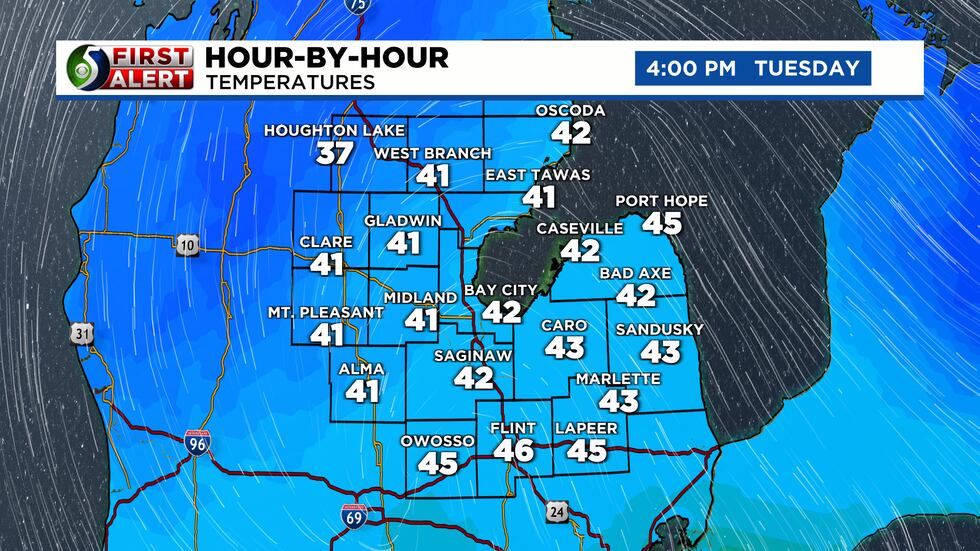 Tonight
Some lingering rain and snow showers will continue overnight, but come to an end shortly after midnight. Any rain or snow that remains will stay light. Lows will fall to around 33 degrees with the wind shifting to the northwest. Speeds will range from 10 to 15 mph, gusting to 20 mph. Be prepared for a chilly feeling start on Wednesday morning, but at least we're rain-free by then!
Wednesday & Thanksgiving
Although clouds will be stubborn to begin the day Wednesday, as the low swiftly leaves it will take the clouds with it allowing for some sun to return into the afternoon! It'll still be a cooler day though as highs only reach up to 43 degrees. The wind will be northwesterly most of the day before turning west into the evening and overnight. Wind speeds will be from 10 to 15 mph. If you have any Thanksgiving travel on Wednesday, there shouldn't be any issues! By Wednesday night, lows fall to 31 degrees.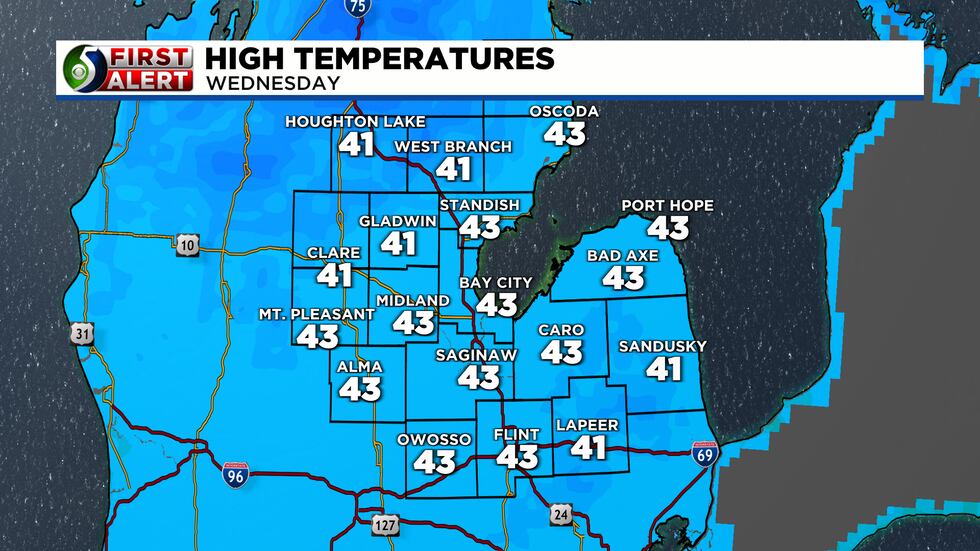 Thanksgiving Day will be right around 44 degrees with partly to mostly sunny skies. Just like Wednesday, we don't anticipate any weather-related travel issues! The average high on November 23rd is 43 degrees, so the Thanksgiving weather we're expecting is actually right around normal for this time of year. By Thursday night, lows will fall to 24 degrees so it will be a cold start on Friday morning!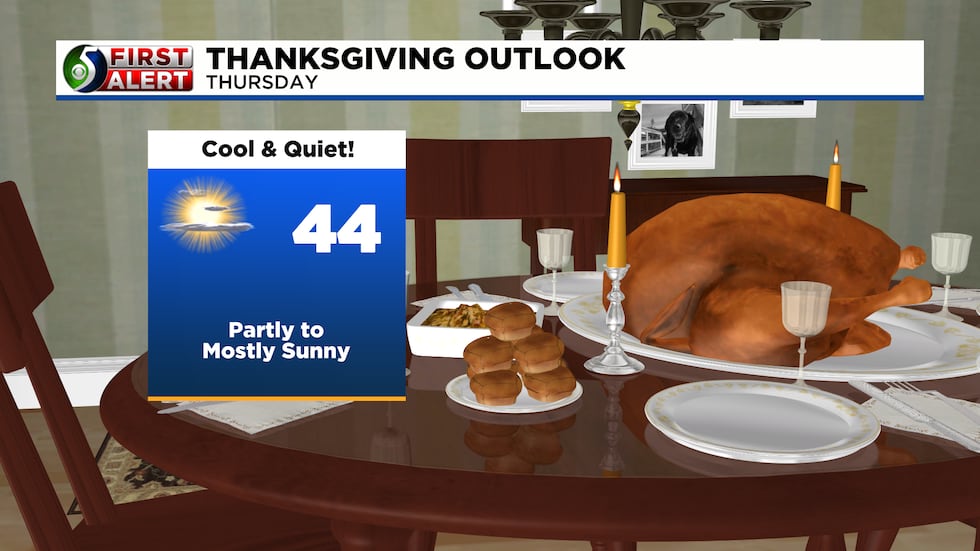 Copyright 2023 WNEM. All rights reserved.