Anchor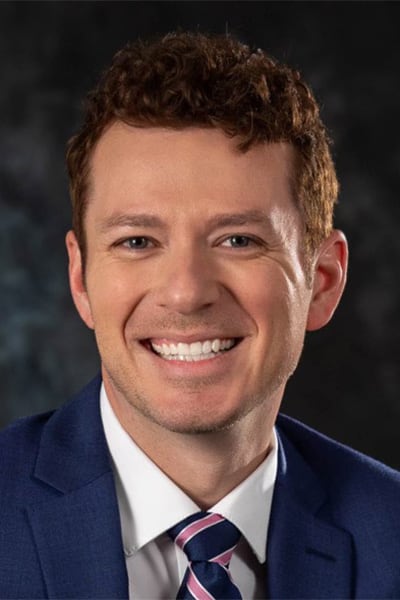 There's no place like home and this Goodrich Martian is happy to be doing what he loves in his hometown. You can catch David every weeknight anchoring WNEM-TV5 News at 5pm, 6pm and 11pm with Meg McLeod.
David is a highly decorated journalist having won eleven Emmy Awards and two prestigious Edward R. Murrow Awards. In 2018, he was the proud recipient of the Great Lakes Bay Region's Ruby Award which recognizes the brightest professionals under the age of 40. He was voted Mid-Michigan's BEST News Anchor by more than 15,000 local readers of "MyCity Magazine" for the last six years. He was also named the area's "Greatest News Anchor" by Great Lakes Bay Magazine in 2019 & 2020. David has won several Associated Press and Michigan Association of Broadcasters Awards, most recently being named Best Reporter/Anchor by both in 2020. The most rewarding to him are the several community organizations that have labeled him a role model and recognized him for his work to empower others. He was awarded "Champion of Pride" by Great Lakes Pride in 2015.
David is a proud graduate of the University of Michigan-Flint. While an undergrad student, he worked for the university newspaper (M-Times) and welcomed students to the campus as one of its Orientation Leaders. David's journey in television began as a news anchor in Alpena, Michigan, in 2002. The station, WBKB, was the only news station on the "Sunrise Side". From there, he moved to Flint to take a job at a competing station as both a reporter and a producer. He quickly climbed that ladder and was promoted to weekend anchor before the station merged with WNEM-TV5. He was asked to stay and transitioned to weekend morning anchor for WNEM-TV5 until the summer of 2007. A job offer in Toledo pulled David across the border where he was the main anchor at the NBC affiliate.
David briefly left television in the Fall of 2009 to pursue an executive position in the culinary field. He combined this new venture with his love for television and began doing lifestyle segments on Better-TV. In 2012, David was invited by talk show host Wendy Williams to share his recipes in an effort to help "Save the Twinkie" on her show.
David's wants everyone to live their best life. His true passion is telling thought-provoking stories that empower and force you to seek out your purpose. He's not afraid to do what it takes to tell a compelling story. He's jumped out of a plane, sat down with presidential candidates and appeared LIVE on CNN. A national story he uncovered was used to create an entire episode of Dr. Phil in 2006.
David would love to hear from you. If you have a story you want David to tell, contact him at david.custer@wnem.com or Tweet him @davidlukecuster